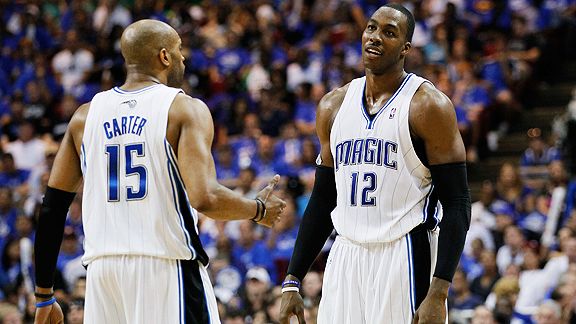 Kevin C. Cox/Getty Images
Can Orlando bounce back from its first loss this postseason? History is on the Magic's side in Game 2. ESPN's John Hollinger checks in with four keys for the Magic

to respond against the Celtics in Game 2 of the Eastern Conference Finals. Check out a snippet from each below:
Drive to the basket: Boston's defensive game plan against the Magic was simple: stay home. The Celtics wouldn't leave Orlando's shooters to help in the paint, and they dared the Magic perimeter players to beat them off the dribble and drive to the cup.

Get Dwight Howard on the move: Orlando's star center had a brutal offensive game Sunday, shooting 3-of-10 and committing seven turnovers. Too often he was facing up against a stationary Kendrick Perkins and trying to overpower him with spins in the paint, which played right into Perkins' hands.

Play Ryan Anderson: Orlando went with a huge lineup during the five minutes that Rashard Lewis sat, playing centers Marcin Gortat and Howard together. There was a historical basis for that, as the rarely used Gortat-Howard combo keyed a 16-point comeback in a win over Boston on Jan. 28. (For a hilarious bit of reading, check my report from that game. Yes, things have changed a bit over the past four months.)

Better transition D: The Celtics had 20 fast-break points, in part because of the 18 turnovers committed by the Magic, and that was Orlando's one major misgiving at the defensive end. The Magic have generally defended Boston extremely well, which has allowed them to overcome Perkins' generally masterful work on Howard at the other end. But on Sunday, Orlando made "mistakes we weren't making in preseason," according to one staffer.
Click HERE

to read the full story.