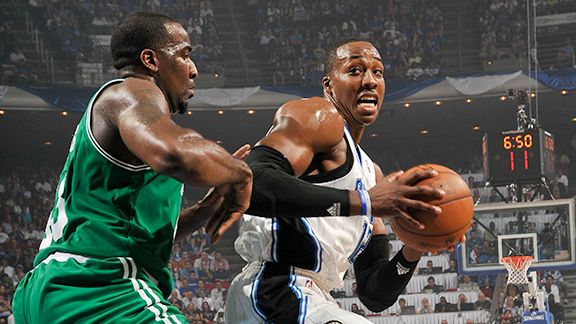 Fernando Medina/NBAE/Getty Images
Dwight Howard poured in a game-high 30 points, but it wasn't enough in Game 2.ORLANDO -- A collection of postgame news and notes after the Boston Celtics defeated the Orlando Magic in Game 2 of the Eastern Conference Finals Tuesday evening at Amway Arena:
The rundown (a quick look at postgame headlines)
* Rondo fuels Boston's transition offense in Game 2
* Howard rebounds with monster offensive effort
* Loose balls: About that last play; Lewis's struggles
Rondo fuels Boston's transition offense in Game 2
If Celtics point guard Rajon Rondo was even the slightest bit hesitant when faced with the prospects of invading the lane while Orlando's Dwight Howard was around, he was equally as undeterred whenever he spotted No. 12 absent from under the basket.
According to the wizards at ESPN Stats & Info, the Celtics outscored the Magic, 17-11, in transition during Tuesday's Game 2 triumph. But it was Boston's efficiency in that category that might have pushed them to victory.
On 11 transition plays, Boston connected on 6-of-7 field goal attempts and generated those 17 points (including free throws earned) with only one turnover. On the other side, the Magic boasted 12 transition plays, but shot only 4-of-10 overall for 11 points with two turnovers.
Rondo raced to the rim three times Tuesday, converted all three layups he attempted in transition and got to the charity stripe on two other occasions to generate nine of Boston's points on his own. Even more production came on assists that he dished to Boston bigs around the basket.
"Offensively, for me tonight, I tried to be aggressive," said Rondo. "In transition, we got some stops early. I was able to attack the rim... It opened up for me in my lanes and I got to the line tonight. I didn't get to the free throw line at all the last game. I got some calls tonight. I was able to do a great job on the offensive end tonight."
Rondo finished with 25 points overall on 10-of-16 shooting with eight assists, five rebounds, and two steals, over 46 minutes.
"Our bigs were in the right spot tonight," said Rondo. "When Dwight [Howard] did come, I was able to dish off to [Glen Davis], Kevin [Garnett], [Kendrick Perkins] or Rasheed [Wallace] for layups. I tried to mix it up as much as possible. A couple of floaters, [Howard] changed my shot... He blocks shots best; at the end of the day I'm going to still be aggressive."
Howard rebounds with monster offensive effort
After two straight days where the media questioned whether Howard had the toughness and natural post skills to hang with defensive bruisers like Perkins and Wallace over a seven-game series, Superman provided a simple answer Tuesday, erupting for a super performance with a game-high 30 points on 9-of-13 shooting along with eight rebounds, a steal and a block.
"I thought Dwight was really good," said Magic coach Stan Van Gundy. "What we've got to get him to do now in Game 3 is put together his rebounding and blocked shots from Game 1 with his offense from Game 2. So, offensively, he was a lot better tonight. But he wasn't as much of a presence inside defensively. But I thought he played with great poise on the offensive end. And when we did a good job getting him the ball, he converted. We just have to get both of those ends put together for Game 3."
For his part, Howard reiterated that he plays best when he stays within himself and doesn't get caught up in the 1-on-1 "wrestling matches" that occurred in Game 1.
"I think when I'm playing with a lot of energy, just being myself and having fun, I think I play better," said Howard. "I know this is a very big series, but, you know, that doesn't mean I can't be myself on the floor.
"I think the first game I wasn't myself. I missed shots and I got frustrated, it kind of took me out the game. If I missed some shots tonight or got some fouls, I just tried to move on."
Loose balls: About that last play; Lewis's struggles
* Celtics coach Doc Rivers wondered how Orlando would respond to adversity considering it hadn't truly faced many troubles over the first two rounds of the postseason. He might have got his answer as the Magic bungled their final possession Tuesday, allowing Boston to escape with the Game 2 victory.
Here's how it unfolded: Garnett missed a 20-foot jumper with little less than eight seconds to play in a three-point game. J.J. Redick came down with the rebound, but waited an extra moment or two before signaling for a timeout. It might have cost his team a true opportunity for a tying shot.
"I think he was just trying to call timeout to one of the refs, but the ref really couldn't see him," explained Howard. "But Coach says, as soon as we got the rebound to call a timeout. So, you know, when you're playing in a big game like this, it's the little things that get you wins. Boston, they did all the little things to get the win tonight."
Van Gundy was far more pointed in his assessment than Howard.
"It would have made a big difference [calling timeout quicker], because if you watch the last play, Rashard [Lewis] got open," said Van Gundy. "But because we were inbounding in the backcourt, [Michael] Finley was back in the passing lane and we could not make the pass."
The Magic settled for a desperation 36-foot heave by Jameer Nelson, but it was off the mark, preserving Boston's narrow triumph.
* Howard on struggling Lewis: "We have to keep our heads up and stay focused. So what if Rashard didn't have a good first two games? Just make Game 3 a better game. And after the game, he was very ‑‑ he was ready for Game 3. He said a lot of good things in the locker room. He's ready to go. I'm pretty sure he's not worried about this game tonight."
Lewis scored five points on 2-of-6 shooting with four rebounds, four assists, a steal and a block over 41 minutes. Far and away the top plus/minus player of the first two rounds, Lewis finished a team-worst minus-seven in that category Tuesday.
Said Van Gundy: "I don't think Rashard has played badly. I just think ‑‑ they are staying home on him. It's incumbent on me as far as Rashard, I have to find a way to get him involved... He's doing a good job defensively on Garnett. It's not like Garnett has been going off at the other end. That matchup has been ‑‑ both guys scored in their last series and both of them are struggling to score right now. So it's going both ways."
* Video: Glen Davis chats about Boston's Game 2 triumph in Orlando: