A trio of Celtics-related stories from ESPN.com:
Simmons: The night Orlando's season fell apart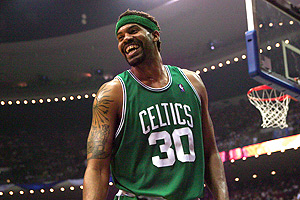 Doug Benc/Getty Images
The Celtics were all smiles after Game 2.
Put it this way: I don't think Orlando has a chance playing the style it played, with the lineups it used, against this particular Celtics team. Other than Howard's spot, they are worse at every other position. They aren't as tough. They can't rebound better or protect the rim better. They can't catch fire with 3s because Boston won't let them get open looks. They can't really stop Rondo or Pierce. They've lost home-court advantage. They have to come up with something drastic -- and I mean, drastic, as in, "Let's go Sampson/Olajuwon with Howard/Gortat" -- to change what's happening here. And even that probably won't work. Not when the Celtics are locked in like this.

The bigger issue: Faux-urgency, as mentioned in last Friday's column. Charlotte and Atlanta softened this Magic team, boosted their confidence to abnormal heights, made them think they were better than they were. Up 20, they look like world-beaters. Down by three, they look tight. Making them no different than Cleveland, actually.

If you haven't done it before, there will always be five or six moments during a postseason when things look bleak and somebody has to step up and say, "Don't worry, I got this." For the 2008 Celtics, it happened in Game 7 of the Cleveland series (Pierce for most of the game, then P.J. Brown with two huge baskets), Game 5 of the Detroit series (Allen and Garnett), Game 6 of the Detroit series (Pierce), Game 1 of the L.A. series (Pierce turning the tide in what Lakers fans now call the Wheelchair Game, which is funny because this is the same fan base that tries to make everyone else think that Kobe Bryant is basically a triple-amputee right now), Game 4 (Pierce and Allen obliterating the Lakers in the 25-point comeback and ending Sasha Vujacic's career in the process) and Game 6 (when KG and Boston's crowd took care of the rest).

Now, look at the 2010 Magic. We'll give them a pass on Game 1 -- rusty, lethargic, it happens. But Game 2? Howard didn't touch the ball in the final four minutes. Nelson forced that awful 3-pointer with 1:21 left. Vince gakked the two free throws. Lewis had his second scoreless fourth quarter of the series. Who's left? The Celtics showed up for the 2010 Eastern Conference finals on Sunday afternoon. We're still waiting for the Magic.
Click HERE to read the full story.
Daniels' stepfather subdued at Game 2
The stepfather of Boston Celtics guard Marquis Daniels was arrested and subdued with a stun gun during Game 2 of the Eastern Conference finals against the Orlando Magic.

The Orlando police report shows 55-year-old Willie L. Buie was charged with resisting arrest with violence during Tuesday night's game. Celtics spokesman Jeff Twiss confirmed it was Daniels' stepfather.

Officers responded to a disturbance in a lower-level section during the second half. Police say they tried to escort Buie from his seat, but he refused, using expletives at officers and swinging his arms free.

He eventually was escorted out near a security office but kept his hands under his body to avoid handcuffs. That's when police say an officer used a stun gun on Buie's back for about 5 seconds.
Click HERE to read the full story.
NBA: Howard won't be suspended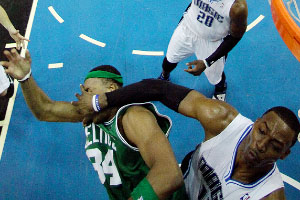 John Raoux-Pool/Getty Images
Dwight Howard's takedown of Paul Pierce in Game 2 resulted in a flagrant foul, but not a suspension.
The NBA will not suspend Orlando's Dwight Howard for Game 3 of the Eastern Conference finals between the Magic and Boston Celtics for his flagrant foul in Game 2.

In the second quarter of Game 2, the All-Star center was called for a flagrant foul 1 after swinging his arm so that his elbow swept through the head of the Celtics' Paul Pierce, who tumbled to the floor clutching his head in pain. Both players remained in the game.

The NBA reviews all flagrant foul calls, and officials spent part of Wednesday deciding whether to upgrade Howard's foul to a more serious flagrant 2 or suspend him for Game 3. A league spokesperson said the play will "stand as called."
Click HERE to read the full story.