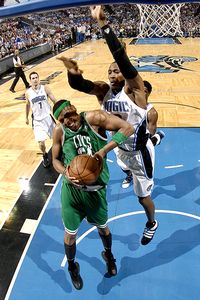 Fernando Medina/NBAE/Getty
Dwight Howard comes down hard on Paul Pierce in Game 2.WALTHAM, Mass. -- The playoffs are a cutthroat time with players and coaches eagerly searching for any advantage.
But Celtics captain Paul Pierce said Thursday he was happy to hear the league would not suspend the Magic's Dwight Howard for a hard foul on Pierce in Tuesday's Game 2 in Orlando.
Referees tagged Howard with a flagrant 1 foul when he came down hard with a forearm and hand to Pierce's face on a layup attempt in the second quarter. Pierce needed brief medical treatment near his left eye, but stayed in the game.
The NBA told ESPN.com Wednesday that it reviewed the incident, but noted the play will "stand as called." Howard earned a one-game suspension for an elbow to Philadelphia's Samuel Dalembert in last year's postseason.
"It's just a hard foul," Pierce said before Thursday's practice session. "My reaction to him not getting suspended, is a good reaction. We want the team's best. In order to be the best, you want to get their best. If they lose Dwight Howard, obviously they're still a good team, but that's not the best team they can put on the floor. For us, we want their best."
That sticks with Boston's philosophy that it truly doesn't matter which seed you are, in order to get to the championship, you have to beat good teams.
Even after Tuesday's game, Pierce downplayed the severity of the foul.
"It was a good foul, man," said Pierce. "A playoff foul. It didn't warrant an ejection. When you get to the hole in the playoffs, you have to expect hard fouls. It's going both ways. You look up, we got 29 personal fouls, they got 25. So you have to expect it to be physical. That's about it. Keep taking your lumps and keep your composure and keep moving on. It's that type of game."