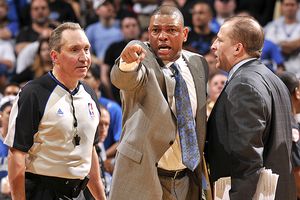 Fernando Medina/NBAE/Getty
Referee Joe DeRosa conferences with Celtics coaches Doc Rivers and Tom Thibodeau.Referee Joe DeRosa is probably hoping he doesn't get any more assignments for Celtics games this season. He can't stay out of the story when he does.
The NBA suspended DeRosa Thursday for one game without pay for throwing a ball at a fan during halftime of Game 2 of the Eastern Conference finals between the Celtics and Magic.
You'll also remember DeRosa as the referee in the middle of the most famous playoff elbow not attached to LeBron James. That would be the one Kevin Garnett delivered to Quentin Richardson, earning him an ejection from Game 1 of the conference quarterfinals between the Celtics and Heat. Afterwards, DeRosa released a statement on the situation, which ended with Garnett being suspended for one game.