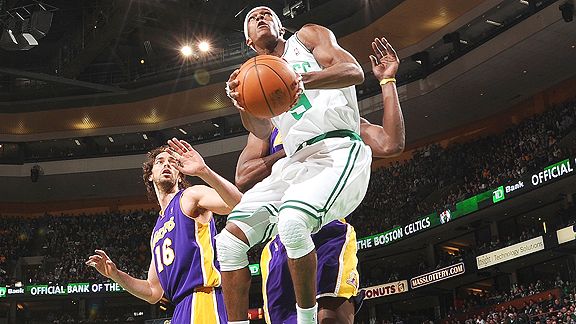 Jesse D. Garrabrant/NBAE/Getty Images
You can run, but you can't hide from the Celtics-Lakers hype ... even though both teams have work to do to win their respective conference finals.If aliens landed on Earth today, they might think the conference finals were best-of-three series given all the hype surrounding what remains merely a possible Celtics-Lakers rematch in the NBA Finals.
It only took a pair of wins by both teams to be anointed paper champions of their respective conferences. While both squads are surely in the driver's seat through two games, you can't help but think the Magic and Suns are using the chatter for just a little bit of extra motivation.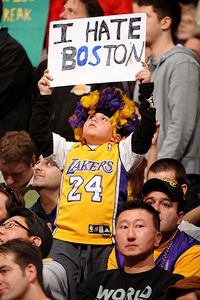 Andrew D. Bernstein/NBAE/Getty
Celtics vs. Lakers. Get excited.Don't misinterpret: We understand the hype and look forward to as much as a full week of Super Bowl-like dizziness should both teams make short work of their series. But we'll side with the coaches and players who have preached a "we'll cross that bridge when we get there" mentality when asked about the potential matchup.
Now, if you absolutely cannot resist. Hop HERE to join an already lively Celtics-Lakers preview discussion.
You should also go visit our friends at ESPN Los Angeles, who already dipped into the frenzy HERE and HERE.
How exactly are the Lakers handling the buzz, highlighted by their fans chanting, "We want Boston!" after Game 1? ESPN Los Angeles' Dave McMenamin provides the details:
"I have zero reaction to that," Kobe Bryant said Monday when asked about the chant.

The chants got even louder Wednesday when L.A. was on its way to a 2-0 series lead, following in the footsteps of the Celtics who were already up 2-0 after completely stealing away Orlando's home-court advantage.

"I didn't understand it [at the time], I'm sorry, I'm not that good [at paying attention to cheers during the game] to understand it," Lakers coach Phil Jackson said on Friday after Lakers practice. "But after the game I was disappointed when I heard it was [going on]."
Click HERE to read the full story.