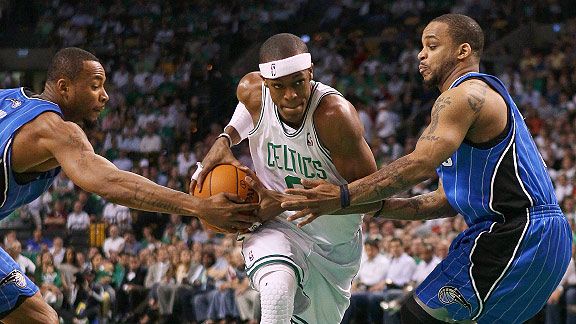 Elsa/Getty Images
Rajon Rondo got bottled up in Monday's Game 4 loss to the Magic.BOSTON -- Instant reaction after the Orlando Magic posted a 96-92 triumph over the Boston Celtics in Game 4 of the Eastern Conference finals Monday night at the TD Garden:
How the game was won: Dwight Howard scored a team-high 32 points and produced a pair of key overtime putbacks, while Jameer Nelson added 23 points and generated a pair of clutch overtime 3-pointers as the Magic prolonged this best-of-seven series. Paul Pierce scored a team-high 32 points, while Ray Allen added 22 points, both giving Boston a chance to produce a sweep, but it wasn't meant to be.
Turning point I: The Celtics, lethargic for much of the first half, were down seven in the third quarter when a brief dust-up between Kevin Garnett and Howard injected life back into Boston. The Big Three took turns producing baskets -- Pierce a 20-foot jumper, Allen a fastbreak jam, and Garnett a 16-footer -- as Boston trimmed its deficit to one in under a minute. The Celtics ultimately pulled ahead before the end of the third frame.
Turning point II: J.J. Redick scored Orlando's first eight points of the fourth quarter and the Magic managed to muscle back out in front, leading by seven with 2:24 to go. But Boston refused to go quietly. Pierce ignited a feverish rally with a driving, one-handed jam and Ray Allen followed with a corner 3. Pierce's old-fashioned three-point play with 75 seconds to go tied the game at 86 and forced overtime.
Turning point III: After two scoreless minutes in the extra session, Jameer Nelson drilled back-to-back 3-pointers for Orlando, which sealed Boston's fate.
Stat of the game: The Magic connected on 10-of-28 3-pointers, generating nearly a third of their field goals beyond the arc and finally getting that portion of their offensive attack going.
Unsung hero: Can Rashard Lewis be considered unsung with that bloated contract? Given his utter absence this series, a 13-point, five-rebound, three-assist outburst earns him unsung honors that might otherwise went to Redick.
What it means: The Magic keep their season alive ... for at least one more game. The series shifts back to Orlando with Boston holding a 3-1 advantage and looking to stamp their ticket back to the NBA Finals. Boston did just about all it could to fumble this game away throughout the night, but still managed to pull ahead at the end of the third frame. The Celtics ultimately couldn't get out of their own way, and an inability to generate baskets late in the regulation and into overtime spelled their demise in this one.