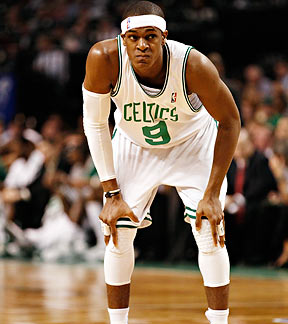 AP Photo/Winslow Townson
Celtics point guard Rajon Rondo should expect to see plenty of picks again in Game 5.BOSTON -- Staggered.
It describes the picks the Orlando Magic set in order to spring Jameer Nelson in Game 4 of the Eastern Conference finals, but it's also a good adjective to describe Rajon Rondo and the Boston Celtics after Monday's loss prolonged this best-of-seven series.
The Celtics had done a phenomenal job defending the pick-and-roll through the first three games of the series, but the Magic added a layer on Monday by often having a second screener waiting for Rondo after Nelson ran the initial pick-and-roll with Dwight Howard.
That left Rondo, who Celtics coach Doc Rivers said after the game had already complained of fatigue early on, running into wall after wall. With little more than a minute remaining in the first half, Rondo retreated to the locker room with strength and conditioning coach Bryan Doo for what the team dubbed muscle spasms.
The numbers tell the story. Through the first three games of the series, the Magic averaged 33 plays per game out of the pick-and-roll and generated an average of 28 points per game, while shooting 35.6 percent from the floor. According to the magicians at ESPN's Stats & Information, in Monday's Game 4, Orlando ran 43 pick-and-roll plays, generating 47 points on 51.6 percent shooting.
What's more, Nelson, who had been 8-of-22 shooting as the primary ball handler in the pick-and-roll through three games, finished 6-for-10 overall Monday. And even when he wasn't creating shots for himself off the picks, Nelson was generating offense by distributing as the defense collapsed on him.
Priority No. 1 for the Celtics in Game 5 has to be defending the pick-and-roll better and not allowing Nelson to create so much havoc.
Click HERE to read the full story.