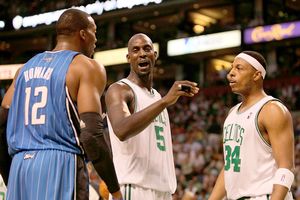 Jim Rogash/Getty Images
Kevin Garnett and Dwight Howard exchange words during Game 4 of the Eastern Conference finals.ORLANDO -- The NBA upgraded an offensive foul call against Dwight Howard in the third quarter of Game 4 to a flagrant Wednesday.
Howard got whistled when he collected a defensive rebound with 6:24 to play in the frame, but made contact with the back of Garnett's head as he swung his arms to protect the ball, the blow knocking Garnett one one knee.
"I saw the play, it's [the NBA's] decision," said Magic coach Stan Van Gundy said before Wednesday's Game 5.
Asked about the play, Van Gundy said twice: "He rebounded and pivoted."
Howard now has two flagrant fouls this postseason, the other a hard defensive foul to the head of Paul Pierce as Boston's captain attempted to convert a layup in Game 2. Both were ruled flagrant 1 fouls, leaving Howard with two points against him this postseason. A suspension occurs at four points.
"I thought it was a flagrant," said Celtics coach Doc Rivers. "The bottom line is, if you throw an elbow above the head, it's going to be called a flagrant. I didn't think that was surprising or harsh."