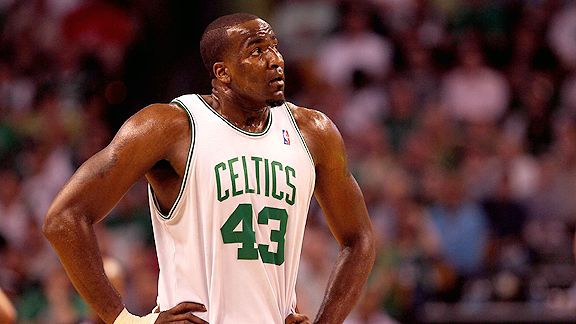 Jim Rogash/Getty Images
Technical fouls are giving Kendrick Perkins even more reason to scowl.ORLANDO -- A collection of pregame news and notes before the Boston Celtics visit the Orlando Magic in Game 5 of the Eastern Conference finals Wednesday evening at Amway Arena:
The rundown (a quick look at pregame headlines)
* Rivers talks to Perkins about escalating technical count
* Celtics need balance after leaning on Big Three in Game 4
* Loose balls: Riding with J.J.; enough gas in the tank for C's?
Rivers talks to Perkins about escalating technical count
Asked about a flagrant foul upgrade assessed Wednesday to Dwight Howard, Celtics coach Doc Rivers said he was more concerned with the technical count of his own players, including Kendrick Perkins, who is inching closer to the suspension limit of seven thanks in large part to numerous double-technicals.
"I have talked to him," admitted Rivers. "The double-technical is what's getting most guys in trouble. The flagrants, I can understand, if you had a ton of glaring flagrants, at some point, you should get suspended. Or if you have a ton of techs for arguing with the refs, just plain back-and-forth with the refs. But the double-technical thing has to be resolved. That's where two players, getting physical, and officials are just trying to clean the game up. The easier way is the double-technical, it calms the game down.
"If you look at Kendrick, four of them are [double-technicals]. Those are the ones we have to figure out a better way. I'm a typical guy -- I don't have a solution, but I can point out the problem."
Perkins tops the Celtics with five technical fouls this postseason, while Kevin Garnett and Rasheed Wallace have four apiece. Rajon Rondo is the only other player with multiple technicals this postseason, but the Celtics have 18 total technicals.
Perkins accrued most of his infractions as part of double-technicals while matched up against Shaquille O'Neal in the conference semifinals and got another double-technical with Howard in Game 3 of the conference finals.
In the postseason, the first two technical fouls are a $1,000 fine. Nos. 3-4 are $1,500 and Nos. 5-6 are $2,000. The seventh foul earns a $2,500 fine plus a one-game suspension. From there, every technical costs $2,500 and every other odd number is a one-game penalty.
Celtics need balance after leaning on Big Three in Game 4
Paul Pierce (32 points), Ray Allen (22), and Kevin Garnett (14) combined for 68 points in Game 4, which is their fifth highest combined total in 40 playoff games together since the 2008 postseason, according to ESPN Stats & Information.
The Celtics clearly need more from their supporting cast in order to close out this series. The Big Three also combined to shoot 46.9 percent (23-of-49) while making 17 free throws and grabbing 28 rebounds. The rest of the team combined for 24 points on 33.3 percent shooting (9-of-27) while making a mere six free throws and grabbing 19 rebounds.
What's more, Allen also shouldered the load beyond the arc, connecting on 5-of-7 3-pointers. The rest of the Boston roster was 0-for-11.
Rajon Rondo, battling muscle spasms and foul trouble, wasn't himself in Game 4, and Boston's offense as a whole seemed stagnant at times as opposed to the typical rapid-fire ball movement much of the postseason.
At the team's morning shootaround, players stressed the need for better ball movement.
"We've got to trust each other," said Rondo. "The last game, the ball stuck a little bit. It has to move throughout. We have to play together."
Loose balls: Riding with J.J.; enough gas in the tank for C's?
A handful of leftovers from Game 3...
Denying the big 3's: How important is it for Boston to limit Orlando's 3-point shooting? The statistics from the last three postseasons suggest the Magic are a decidedly different team when they hit nine or more 3-pointers in a game. When it tops nine, Orlando is 21-4; the Magic are just 6-15 when hitting fewer than nine. The Magic connected on 10 trifectas in Game 4.
Enough gas in the tank?: Pierce poured in a team-high 32 points, but missed his final five field goal attempts of Game 4 -- and that's not even counting the possession he fumbled away with a chance to win the game at the end of regulation. It might not have mattered, anyway. Pierce missed all six jump shots he took in the fourth quarter and overtime, with four hitting the front of the rim or falling short.
Riding with J.J.: J.J. Redick finished a Game 4-best plus-14 in the plus/minus category and is far and away the highest of any Magic player this series at a cumulative plus-20 (no other player has a positive rating).
What's more, Orlando is outscoring Boston by 8.6 points per 48 minutes when Redick is on the floor (plus-20 over 112 total minutes). When he's not on the court, the Magic are being outscored by a whopping 26 points per 48 minutes (minus-46 over 85 total minutes).