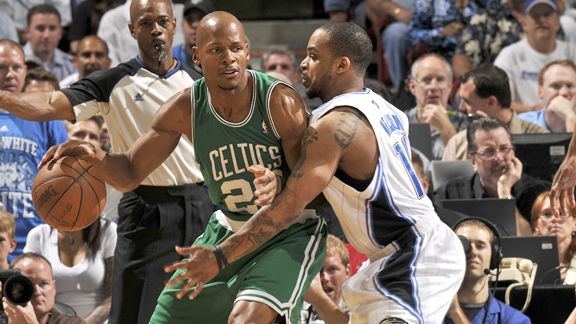 Fernando Medina/Getty Images
Ray Allen and the Celtics emerged battered and bruised.ORLANDO -- Instant reaction after the Orlando Magic posted a 113-92 triumph over the Boston Celtics in Game 5 of the Eastern Conference finals Wednesday night at Amway Arena:
How the game was won: Jameer Nelson scored a game-high 24 points on 6-of-10 shooting, going 4-of-5 from beyond the arc to pace a Magic team that couldn't miss from downtown. Dwight Howard added 21 points on 7-of-12 shooting from both the field and free throw line. Rasheed Wallace scored a team-high 21 points, while Rajon Rondo added 19 points and dished out six assists for a shorthanded Celtics squad decimated by injuries and a first-half ejection to Kendrick Perkins.
Infirmary report: Glen Davis and Marquis Daniels both departed with concussions, leaving the Celtics further shorthanded after the early ejection of Perkins, who got tagged with a pair of technical fouls.
Stat of the game: The Magic connected on 13-of-25 trifectas, a blistering 52 percent.
Unsung hero: J.J. Redick continues to be huge off the bench for Orlando, registering 14 points and a staggering plus-18 in the plus/minus category.
What it means: It seems the night could not have gone worse for the Celtics, which stumbles back to Boston nursing a now-tenuous 3-2 lead in this best-of-seven series that once seemed like a certain sweep. The Celtics must wait for the league to review the two technicals assessed to Perkins, who is in line to be suspended for Game 6 if he stays at the postseason limit of seven technicals. Meanwhile, health is suddenly an issue with the concussions to Davis and Daniels.