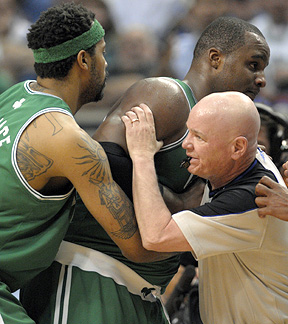 AP Photo/John Raoux
Glen Davis needs help from Joey Crawford to stay upright after enduring a concussion in Game 5.ORLANDO -- Defiant as team trainers tried to help him off the court following a Dwight Howard elbow that left him concussed in the third quarter of Wednesday's Game 5 of the Eastern Conference finals, Celtics forward Glen Davis remained contumacious as the media invaded Boston's locker room after Orlando's 113-92 triumph.
"I'm all right," Davis said emphatically as he stormed past cameras en route for the exit. "I'll be back next game. [Expletive]. That's all you need to print."
While the rest of the room was decidedly less surly about the matter, Davis unintentionally summed up the mood of a Boston team punched in the jaw and left scrambling to pick up its teeth (quite literally, as Howard's elbow dislodged at least one of Davis' chompers that the Amway Arena staff collected as he was being attended to).
The Celtics say they'll be all right. They'll be back next game. That's all you need to know.
On a night in which two Celtics emerged with concussions, two others tweaked injuries and another earned what could be a game-and-a-half suspension, Boston lost its stranglehold on this best-of-seven series, which shifts back to the Hub with the Celtics clinging to a now tenuous 3-2 advantage.
Yet the players oozed a quiet confidence in the face of mounting adversity.
"It is what it is," said Celtics captain Paul Pierce, whose own right shoulder stinger flared after Howard crashed down on him in the third quarter. "We're not a team that's going to look around and say, 'Woe is me.' We've got a job to take care of. Our goal is to win one more game and end this series, regardless of who we put out there. One guy goes down, or two guys go down, it's got to come from everybody. We've just got to be ready to step up."
Click HERE to read the full story.