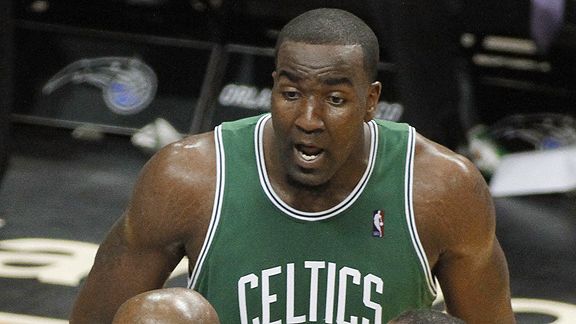 AP Photo/Reinhold Matay
Kendrick Perkins earned a reprieve from a one-game suspension when the league rescinded a technical foul Thursday.The NBA on Thursday rescinded one of the two technical fouls assessed to Celtics center Kendrick Perkins in Boston's loss to Orlando in Game 5 of the Eastern Conference finals Wednesday night, meaning Perkins will be available to play in Friday's Game 6.
The NBA took back the second of the two technicals, which occurred with 36.1 seconds remaining in the first half and resulted in Perkins' automatic ejection. Referee Eddie F. Rush tagged Perkins with the technical for arguing a foul call.
That call had also given Perkins seven technical fouls in the playoffs, which by league rules resulted in an automatic one-game suspension. The rescinding of the technical left Perkins at six, which makes him eligible for Game 6 but nevertheless leaves him on the threshold of a suspension.
Perkins picked up his first technical Wednesday for what appeared to be an inadvertent elbow to the body of Marcin Gortat in the first half. Both players were assessed with technicals.
The ruling by the NBA has to come as a relief to the Celtics, who face the possibility of playing Game 6 without forward Glen Davis, who suffered a concussion Wednesday.
Click HERE to read the full story.