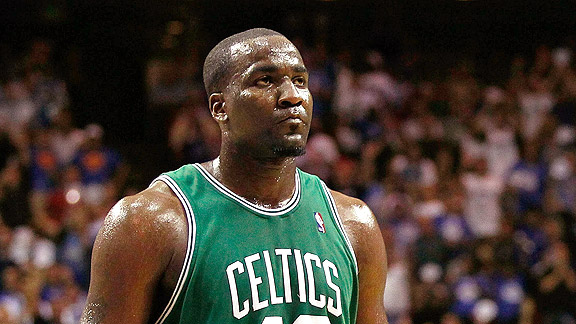 Kevin C. Cox/Getty Images
The Celtics wanted both technicals overturned, but they're happy to have Kendrick Perkins available for Game 5.Celtics coach Doc Rivers held a conference call with the media Thursday evening after the team flew home to Boston following Wednesday's Game 5 loss in Orlando. Check out the highlights:
The rundown (a quick look at the conference call headlines)
* Celtics happy one technical overturned for Perk, wanted two
* Rivers offers updates on Boston's M*A*S*H unit
* Rivers: Thibodeau hasn't received job offer from Hornets
Celtics happy one technical overturned for Perk, wanted two
Rivers said the team was happy, but not surprised that the NBA rescinded a technical foul against Kendrick Perkins, allowing Boston's center to participate in Friday's pivotal Game 6. But any elation was tempered by the fact that the team truly believed both should have been downgraded.
Perkins was ejected from Wednesday's game after picking up two technical fouls late in the first half. The second, for arguing a call with referee Eddie Rush, was overturned upon review by the league Thursday.
"Obviously, we're happy about it, but also a little disappointed that both technicals were not rescinded," said Rivers. "Both should have been. I'm very surprised that they were not. I'll take one, but hopefully we can keep working on the other ones. I think it's the right decision. Unfortunately, we can't get those calls back and it clearly hurt us in Game 5 not having Perk out on the floor."
Perkins now has six technical fouls for the postseaosn, one shy of the threshold that brings a one-game suspension. (A one-game ban would follow for every other technical thereafter.) Given that five of Perkins' six technicals have come from offsetting double technicals assessed to him and an opponent, Rivers has campaigned the past two days for the system to be changed given the difference between certain technical fouls.
Rivers stressed that Perkins needs to stay aggressive and not play tentative, particularly against Dwight Howard, who Rivers said has been the most physical player in the series.
"We're very concerned [by Perkins' six technicals], but Kendrick has to be allowed to play, he has to be allowed to be physical," said Rivers. "It's amazing how this [series] has gone so far. Kendrick has been in foul trouble and he's not the most physical player on the court, that's Dwight Howard. I keep telling him, be as physical as Dwight and he says, 'Yeah, but I end up in foul trouble.' We're just trying to get Perk to be Perk, not to be concerned with fouls and technicals. But that's very difficult to do."
Rivers offers updates on Boston's M*A*S*H unit
Rivers is fine with the physical nature of this series and even looked at all the ice packs in the locker room following Game 5 and told his team, "This is great, isn't it? This is the playoffs, this is what it should be about. Embrace this moment." He believes they will.
But he does need his players to get healthy. Here's the player-by-player rundown with updates from Rivers, who noted most everyone on the list will be a game-time decision.
* Rivers was encouraged by what he saw of Glen Davis on Thursday, noting Davis experienced headaches after Game 5, but that they had subsided by the time the team watched film before the flight back to Boston. He will be a game-time decision for Friday.
"Baby looked fine, but he still has to go through a couple of tests this evening," said Rivers.
* Marquis Daniels, who still looked shellshocked in the Boston locker room after Game 5, is behind Davis in his recovery.
"Marquis is not doing as well as Baby, I can tell you that," said Rivers. "Right now, I'm not too sure if he'll be ready. I would actually say he will not be ready, but that will be a game-time decision as well."
* Rasheed Wallace continues to be bothered by a balky back, which remained so stiff he couldn't sit to watch film Thursday.
"Rasheed had been doing better, but he's not moving well at all today," said Rivers. "He felt a little better, but we watched film before getting on the plane as a group and he couldn't sit down. He stretched the whole time. He's feeling better, but he'll be a game-time decision."
* Rivers also said that Rajon Rondo, who experienced muscle spasms in Game 4, is feeling fine and does not expect him to be further limited. Boston's coach sounded less enthusiastic about Tony Allen and his injured ankle, noting that it's really affecting his play and that the team might have to consider going in another direction for Game 6. Boston is already thin on guards and the few options at the position would be increasing minutes for Nate Robinson and Michael Finely, or activating former NBDL standout Oliver Lafayette.
Rivers: Thibodeau hasn't received job offer from Hornets
Rivers said Celtics associate head coach Tom Thibodeau has not received a formal job offer from the New Orleans Hornets -- yet. But Rivers, an ardent supporter of his coaches getting full-time jobs, said he's hoping such an offer does come to fruition especially since Thibodeau has not let potential offers distract him this postseason.
"[No offer] yet, but we hope they do soon," said Rivers. "I told you how he's terrific, he works his butt off. ... The guy, he's got an exceptional mind. So I'm hoping they do. I haven't heard much, we do talk about it. So we're just hoping.
"I'm not worried about it [becoming a distraction]. Listen, nobody works harder than Tom Thibodeau, ever. He'd never be distracted from this job."