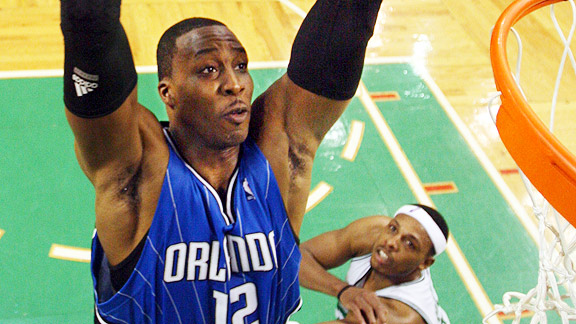 AP Photo/Winslow Townson
It's a bird, it's a plane ... it's a dunk for Superman.A quick glance at the historical numbers and patterns, with helps from our friends at ESPN Stats & Information, before the Boston visit the Orlando Magic in Game 5 of the Eastern Conference finals Wednesday night at Amway Arena:
* The Magic could become the first team in NBA history facing a 3-0 deficit to force a Game 7 at home.
* The Celtics led this series 3-0. There had been 93 previous occurrences of a team leading 3-0 in a best-of-seven series and that team has won all 93 series. If the Magic win Game 6, the series will be tied 3-3. Only three teams in NBA history have been down 3-0 and gone on to force a Game 7. Those teams are the 1951 Knicks (vs. Royals), 1994 Nuggets (vs. Jazz) and 2003 Blazers (vs. Mavericks).
* Over the last four postseasons, the Magic are 4-0 in elimination games against the Celtics. Orlando is 0-3 in elimination games against other NBA teams in that span.
* The Celtics led the Magic 3-2 in last year's Eastern Conference semifinals. Orlando won Game 6 in Orlando by eight points, then prevailed in Game 7 in Boston by 19 points.
* In NBA history, the home team wins Game 7 of a best-of-seven series 80 percent of the time.
* Check out THIS post for Accuscores comparison of winning percentages by games. After taking a 3-0 series lead, the Celtics were 95.5 percent certain of winning the series based on their computations. If Orlando steals Game 6, Boston's odds fall to 33.5 percent.