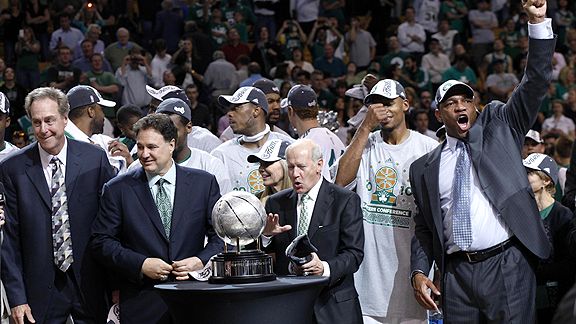 Greg M. Cooper/US Presswire
The Celtics raised one trophy, now they want another banner.BOSTON -- A glance at our featured ESPN.com stories after the Boston Celtics defeated the Orlando Magic in Game 6 of the Eastern Conference finals Friday night at TD Garden:
Forsberg: Robinson's patience pays off
When Boston Celtics guard Nate Robinson returned to his locker after Friday's 96-84 Game 6 triumph over the Orlando Magic, his two cell phones were buzzing.

His back to the mob of cameras and reporters awaiting his attention, Robinson fielded a quick call from a college teammate and politely said he'd call him back shortly. A quick glance at the screen of his Blackberry revealed 35 new text messages -- and that number probably doubled before reporters were done peppering him with questions.

On the whiteboard inside the Celtics' locker room, a big No. 4 was written in the upper righthand corner. It likely signified the number of wins Boston need to win the NBA title. But it might as well have been an homage to Robinson, who wears No. 4.

Yes, after toiling in relative obscurity for much of the past three months since his arrival in Boston, it took a mere 8 minutes 46 seconds to make Robinson the toast of the town.

"Nate was great tonight, everybody, Nate was unbelievable," beamed locker neighbor Glen Davis. "Mighty Mouse, huh? Came through. Twitter topic, guys. Make him a Twitter topic tonight."

Robinson couldn't unsurp the likes of Tyra Banks and the final episode of her TV talk show as a trending topic, but Robinson is likely to get more air time than the supermodel after his performance in the Celtics' Eastern Conference-clinching triumph at TD Garden.
Click HERE to read the full story.
May: Rivers' savings plan pays dividends
Doc Rivers likes to hearken back to the words of wisdom from his late father when things get difficult. Grady Rivers told his son that whatever he started, he should try to complete. He had a phrase for it: "Just finish the race."

For so much of this season, the Boston Celtics looked like they were moonwalking to the finish line. Rivers told anyone and everyone who'd listen that he didn't care about wins and losses, or playoff positioning, or anything other than universal health care for his fellas. If that came about, the coach said, then he'd be content to see where things went from there.

The Celtics are still in the race, improbably. They have taken care of the two best regular-season teams in the playoffs. They have done it by doing a lot of the things they didn't do in the regular season. Now, this implausible postseason run has them in the NBA Finals and, if you've been watching any of the Suns-Lakers series, you have to wonder: What are either of those teams going to do when they go up against a team that actually plays defense?

We can break things down a la Hubie Brown but, bottom line, the Celtics are the Eastern Conference champions in 2010 because they dominated Cleveland and Orlando the same way they dominated everyone two years ago. They played suffocating defense in their wins, they got great performances from their key men at key moments (how about Paul Pierce coming up ultra-large in Game 6 with 31 points and 13 rebounds?) and eased a worrisome Celtics Nation with a convincing 96-84 series-clinching dispatching of the Magic Friday night.
Click HERE to read the full story.
Sheridan: Eastern Champs, Seeking Banner No. 18
Their encounter was brief, lasting but 2 or 3 seconds, one coach the victor and the other the vanquished, and very, very little was said.

"Good luck," Stan Van Gundy told Doc Rivers as he shook his hand in the narrow hallway behind the interview podium, getting a simple "thanks" in return.

Once again, the Celtics had left a favored opponent stunned and more or less speechless.

On a night when the new Garden rocked throughout the fourth quarter with chants of "Beat L.A.," the Boston Celtics earned the right -- and earned it with zest -- to go for yet another NBA championship as they defeated the Orlando Magic 96-84 Friday night in Game 6 of the Eastern Conference finals.

"Bring back No. 18, OK?" Celtics great Dave Cowens turned and said to owner Wyc Grousbeck as he handed him the Eastern Conference championship trophy, the same trophy that Rasheed Wallace later held aloft and let the fans touch as the Celtics exited the court some 10 minutes after the final buzzer.

"If you come off the two series they just had, I mean they beat two very good teams, and they made us look like we weren't very good teams, OK?" Van Gundy said. "Cleveland was upset with the way they played, and we're certainly upset with the way we played. But when you go through two series like that, I think you have to be fair and say a lot of it had to do with them, and they are playing very, very well right now."
Click HERE to read the full story in today's Daily Dime.