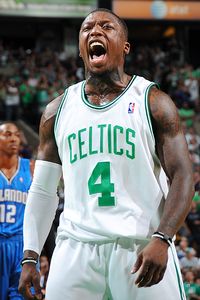 Brian Babineau/NBAE/Getty
Nate Robinson hasn't led the Celtics in scoring ... yet. But he's a sign of their balance.The Celtics are 17 games into the postseason and still have not had the same leading scorer in back-to-back games, which is an NBA record, according to the Elias Sports Bureau.
Boston eclipsed the previous mark of 15 set by the 1978 Seattle SuperSonics in a Game 5 loss. Now they're just making it tougher for anyone to catch them. Heck, the second-longest postseason streak was 13 by the 1989 Detroit Pistons.
Paul Pierce and Ray Allen have each led the team in scoring on five occasions, Rondo on three others, and Kevin Garnett twice. Glen Davis and Rasheed Wallace both topped the team during the Magic series. But no player has been able to lead the team on back-to-back nights.
Pierce will get the first crack at ending that streak when the NBA Finals open next week after putting up a team-best 31 points in Boston's Game 6 triumph over Orlando.
"I think the ball is going to find either Paul or myself if we're playing the right way," explained Allen. "Rondo, if he starts to break ‑‑ the game is so unpredictable -- but with the way we play the game, when Rondo starts to break, Paul's on the perimeter, I'm on the perimeter. He has us. We just keep the floor spaced and allow him to attack and penetrate.
"But most of the plays [in Game 6] were run through P. We're going to keep moving and trying to create in his direction. But once Rondo attacks, Paul gets open, and Kevin is in the post, you never really know who is going to get the ball, and that is the beautiful thing about our offense.
"Because of the unselfishness when we're playing well, throughout the season, we've shown moving the ball from one side to the other beats every defense because we have too many great players in each position from 3‑point shooters to great post players and great cutters. And guys coming off the bench that are tremendous scorers.
"So we've got to sometimes do less to do more to help this team score and win, and make the offense look good. And it takes a lot of pressure off our defense."