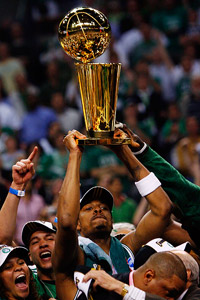 Jim Rogash/Getty Images
Celtics captain Paul Pierce can already envision another moment like this.Celtics captain Paul Pierce doesn't profess to be clairvoyant, but when he looks into the future he sees one vision: Him holding up the Larry O'Brien trophy at the end of the 2010 NBA Finals.
"I envision me holding up the trophy," said Pierce. "That's all I can see. I don't know how the games are going to play out, there's pretty much no script on that. But, at the end of the day, I envision and dream of me holding up that trophy."
On a day his teammates raced to a post-practice NBA-mandated pre-Finals photo shoot, then sprinted to the team plane before it departed for Los Angeles, Pierce seemed relaxed and downright giddy Monday as he talked about returning home to play the Lakers again.
Pierce admitted he's learned to relish the moment, sort of like a last-second shot.
"It's something that comes from within you," said Pierce. "You soak in the moment, enjoy it -- not shy away from it. Some people get intimidated by being in the championship -- the cameras, the big stage, all the hoopla surrounding it. I enjoy it. It's something I dreamed about when I saw [Celtics vs. Lakers] as a young kid and even as an NBA player. It's something I constantly envision.
"Now I've accomplished it [raising the Larry O'Brien trophy]. Now it's almost like deja vu. You picture it in your head growing up, while you're at the gym. You envision it and it's almost like you've been in that position... you put yourself there so many times, when you get to it, it feels like you're supposed to be here. That's the way I take it; I don't know how everyone else does. That's why I'm not rattled in these moments."
One thing that can rattle Pierce about going home for the Finals: ticket requests from family and friends. He said he's currently searching for about 30 tickets, though he wouldn't mind getting it down to five.
"It's always special to be part of the Finals in a place where you grew up, that makes it even more special," said Pierce. "The only negative thing about it to me is tickets. It's going to be pretty expensive, but it's going to be exciting, having family and friends in the place where it all started for me, watching the Finals again."
Pierce, an Inglewood native, detailed how it's still hard sometimes for his family and friends to root for the Celtics given the fact that most grew up die-hard Lakers fans. But he says it's not hard for him any more.
"I've accepted the Celtics tradition and I'm part of it," said Pierce. "I'm here now; I'm full-blown Celtics. Even though I grew up a fan of LA, that's no longer the case. I'm being part of history, this is something I grew up watching. This is the type of series that got me into basketball, watching Celtics vs. Lakers."