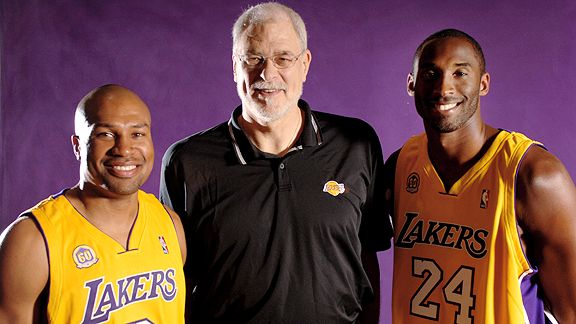 Andrew D. Bernstein/NBAE/Getty Images
Don't let these three win Game 1 if you know what's good for you.Sifting through the numbers before the Boston Celtics and Los Angeles Lakers clash in the 2010 NBA Finals -- and there's lots of numbers to sift though, believe me -- here's one stat that leaped off the page:
If the Lakers win Game 1, go ahead and ship the Larry O'Brien trophy to 111 South Figueroa St. in Los Angeles. Derek Fisher, Kobe Bryant, and Phil Jackson are not just good when their team wins Game 1 of a best-of-seven series, they're undefeated.
Fisher boasts the best record in NBA history at 27-0 after winning Game 1, while Bryant is right on his heels at 26-0. Steve Kerr is closest at 23-0, while Bill Russell posted a 22-0 mark.
Jackson? He's a mere 47-0 when his teams win the first game of the series.
The Celtics lost Game 1 in Cleveland last month, but rallied to win that series in six games, so all is not lost should Boston falter Thursday. But the stats sure suggest it's a daunting proposition.