We'll side with Paul Pierce, who suggests any comparison between the 2008 Celtics and their 2010 counterparts is impossible until this year's squad secures the title trophy. But one thing you can debate is how the bench has changed over two seasons, including a look at how important that second unit was the last time the Celtics met the Lakers in the championship round. Which is exactly what we did today, while examining how Glen Davis and Tony Allen couldn't get off the bench in 2008, but are two of three key reserves for Boston this go around: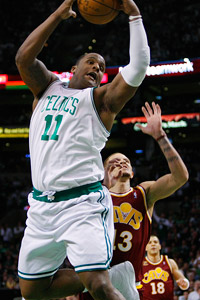 David Butler II/US Presswire
He's not James Posey, but Glen Davis has nevertheless established himself as the most valuable Celtic off the bench.
Boiled down, the comparison is actually pretty simple to make considering Boston's starting 5 is exactly the same. Sure, you can make the case that Rajon Rondo is performing at a level much higher than where he was at in 2008 -- and that's indisputable. But you can also say that his progression simply offsets the decline of an aging Big Three. Put it this way: Kevin Garnett dabbled around 40 minutes per game at the start of the 2008 Finals and averaged 18.2 points per game that series; he's unlikely to come close to those numbers this time around.

So what's changed for Boston's bench since 2008? Everything, actually.

Two years ago, the Celtics leaned on a four-man supporting cast of James Posey, P.J. Brown, Leon Powe, and Sam Cassell. It's easy to forget, but Eddie House was out of the rotation at the start of the Finals before fighting his way back in by providing a spark in pivotal Game 4. That's almost an identical trajectory for Nate Robinson, the player House was traded for in February.

The 2008 reserves went their separate ways quickly. After winning the crown, Brown and Cassell retired, while Posey cashed in with New Orleans (only to be a bit of a disappointment) and Powe left town after suffering another knee injury at the end of the 2009 season.

Boston's current bench stars Tony Allen and Glen Davis, two players that simply filled out the 2008 reserves and couldn't get on the floor in the Finals. That would seem to suggest that the bench of two years ago was far superior.

Statistics, however, dispute that notion.

Utilizing what's primarily been a four-man rotation of Davis, Allen, Rasheed Wallace and Michael Finley, Boston's bench is averaging 23.1 points per game this postseason. The 2008 bench averaged 21.9 points per game in the playoffs.
Click HERE to read the full story.