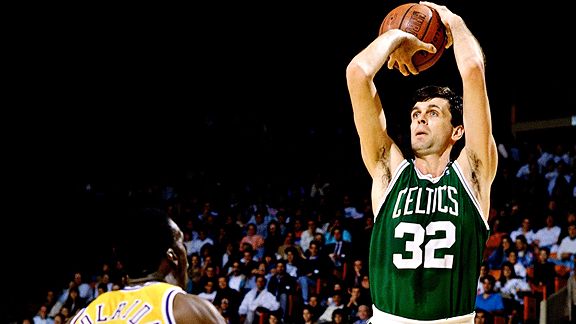 Andrew D. Bernstein/Getty Images
Kevin McHale has hands-on experience with the Celtics-Lakers rivalry.Celtics legend Kevin McHale isn't certain who will win the 2010 NBA Finals, but his heart still bleeds green.
Speaking on a conference call Tuesday to promote NBA TV's coverage of the Finals, McHale, an analyst for the network, offered his thoughts on the matchup, including the fact that his past allegiance to the Celtics has him leaning in their direction to prevail in this series.
"I'm excited for Boston, but I'm not only happy for the players, but happy for [Celtics president of basketball operations and McHale's former teammate] Danny [Ainge], a very good friend of mine, [Celtics coach] Doc [Rivers], Eddie Lacerte -- my old trainer -- so it goes way back for me," said McHale. "So many guys are still involved since I left there years and years ago, it goes to show the organization stays very consistent. I'm excited for them. It's fun for basketball and it's going to be great.
"My prediction? It's going to be an interesting series. Paul Pierce was the best player [in 2008] and swung that seires over in favor of the Celtics. It's a coin toss -- flip 'em -- a coin-toss series. Just because my heart is into it, I'll go with the Celtics."
Later, McHale was asked if he'd have any interest in the Celtics' coaching job with reports that Rivers could walk away at season's end. McHale, who posted a 39-55 record in a season and a half as coach of the Minnesota Timberwolves, didn't say no, but was careful to tread cautiously.
"That's way down the road, we'll see where it goes," said McHale, who noted that Rivers is still Boston's coach and doing a wonderful job at it.
McHale did note that he's had contact with the Chicago Bulls about their head coaching vacancy and likes that situation.