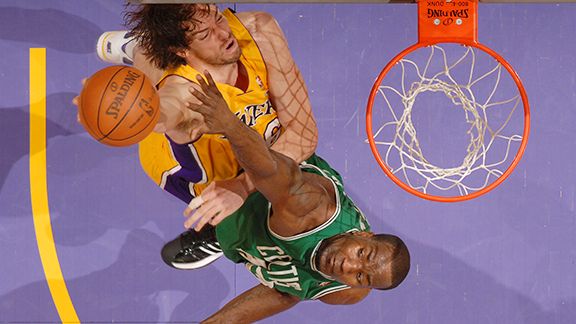 Andrew D. Bernstein/NBAE/Getty Images
The Celtics got a shakeup right before topping the Lakers in the second of two regular-season meetings in L.A.With the 2010 NBA Finals set to tip off Thursday night in Los Angeles, the Celtics practiced Tuesday on the campus of UCLA, which seemed like an appropriate venue considering that's the very spot Boston began the process of shaking itself from the midseason doldrums that threatened a championship-caliber season some 3 1/2 months ago.
It was on the Westwood campus on Feb. 17 that Eddie House acknowledged trade rumors that suggested he would be dealt to the New York Knicks in exchange for Nate Robinson. Before the Celtics even tipped off against the Lakers the next night, House was gone, departing in the night as Celtics president of basketball operations Danny Ainge delivered a much-needed (yet much-scrutinized) shakeup to the foundation of Boston's basketball team.
House was the fall guy on a team that underperformed for the better part of two months after starting the season red hot at 23-5 overall. Boston limped into the All-Star break having lost eight of its previous 13 games and stood at a far less glossy 33-18 after a 93-85 loss to New Orleans right before the midseason vacation.
To be certain, the House-for-Robinson swap was not what resuscitated Boston's season. In fact, Boston's season dipped even lower in the months that followed, including head-shaking losses to the Nets, Grizzlies, and Wizards down the stretch. The Celtics even stumbled to the finish line losing seven of their final 10 games before flipping the much-ballyhooed switch in the playoffs.
But it was the shakeup that occurred at the trade deadline, where the Celtics acknowledged that the status quo simply wasn't good enough for this team. It didn't matter if injuries were the true root of Boston's struggles, something had to give and shipping out House, a core member of the 2008 championship team, reminded the rest of the Celtics' roster what exactly they were expected to accomplish this season.
"We're just trying to get better," Celtics coach Doc Rivers said at that practice session at UCLA in February. "Our goal is at the end of the year. We don't want to be the best right now, we want to be the best later. We haven't shown anyone we can do that yet."
The Celtics didn't quite prove that until the postseason. But they did rebound after the House trade and posted a monster win over the Lakers that sort of solidified what was possible when the team played to its abilities.
One hundred and five days later, the Celtics are back in Los Angeles ready to start the process of accomplishing what they knew was possible when House was traded.
Click HERE to read the full story.