"I definitely think we have more talent. It's yet to be proven that we're better than the team that won a championship. If we win the championship, then ask me that question."
-- Paul Pierce, Oct. 23, 2009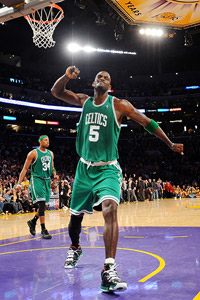 Noah Graham/NBAE/Getty Images
The Celtics squeaked by the Kobe-less Lakers in early February, a victory that could serve as all the proof they need that they can win in Los Angeles.Seven months after the start of the 2009-10 NBA season, Paul Pierce is still fielding the same questions about how the 2010 Celtics rank against their championship counterparts of 2008. That's about as encouraging a sign as any for Boston.
Like in October, Pierce isn't touching those queries until this season's squad raises a Larry O'Brien trophy, which it has the chance to do within the next couple of weeks as the Celtics prepare to face the Lakers.
If you're a Celtics fan, stop and savor for a moment the fact that your team is even on this championship stage. Sure, back in October, many projected a Celtics-Lakers clash, and when the C's went up 2-0 on the Magic in the Eastern Conference finals, a trip to the title round seemed like a foregone conclusion.
But then consider all the peaks and valleys encountered since Boston began the regular season in Cleveland on Oct. 27. Think about the confidence level after the Celtics lost at home to the New Jersey Nets on Feb. 27 or got embarrassed by the Wizards on April 9.
As ecstatic as some felt about this team after a Christmas win in Orlando, recall the limited optimism heading into the postseason with the vaunted Cavaliers looming in the second round.
Yes, it's been a wild 2009-10 campaign, but the mere fact that Pierce is still fielding those comparison questions in June is a testament to what this team has accomplished.
Come as we detail the highs (Christmas Day win over Orlando) and lows (defeated by the Nets at the Garden) of the season. Click HERE to read the full story.