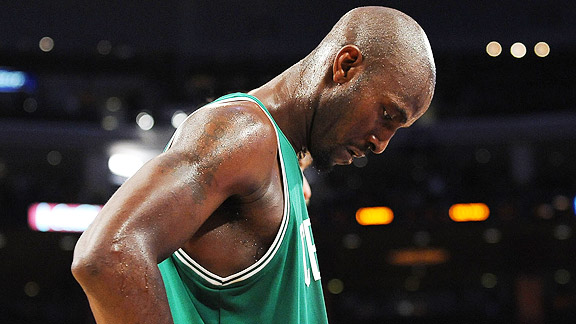 Noah Graham/NBAE/Getty Images
Celtics coach Doc Rivers stressed there is nothing physically wrong with Kevin Garnett.LOS ANGELES -- A collection of practice news and notes after the Los Angeles Lakers and Boston Celtics practiced Friday afternoon at the Staples Center:
The rundown (a quick look at practice headlines)
* Doc on KG: 'He's fine, I can guarantee you that'
* Ainge on Doc, Thibodeau; Rondo re-injured?
* Loose balls: Doc aware of 47-0; Humbling film study
Doc on KG: 'He's fine, I can guarantee you that'
Celtics coach Doc Rivers stressed that there is nothing wrong health-wise with Kevin Garnett the day after Boston's forward was limited to 16 points and four rebounds over 35 minutes in a Game 1 loss to the Lakers.
"I just thought, honestly, he got so hyped up about the game [Thursday] he almost took himself out," said Rivers. "He was trying to slow himself down. He didn't have a great game. But no, he's fine health-wise and all that. It's funny -- just with our team -- whenever we don't play well, it always comes down to either health or age, and it's usually sometimes we just don't play well. I thought last night was more of that.
"I just thought he struggled. He had one of those nights. We all have them. We're just not used to seeing him have them unless there's something wrong. But he's fine, I can guarantee you that."
Pressed on Garnett, Rivers noted that he had the best practice on Wednesday, but seemed to lose some of that edge trying to calm himself down for Game 1 on Thursday.
"All year when we play bad, we're old; when we play well, we have great experience," said Rivers. "That's just who we are. I think our guys accept that now. It doesn't bother them. Kevin works so hard on his game, I just thought -- I made a comment to our coaches, I wish we could have played the day before. He probably had the best practice that he had in five days. He was unguardable. And then the next day the human part of the game shows up, and for whatever reason -- I think part of it, you've got to give the Lakers credit, they did a nice job -- I just thought he lost his rhythm.
"I thought he tried to talk himself down, and he did too good of a job of it. He needs to play with that edge, and I really thought early on he was going too fast and trying to slow himself down he probably did it a little bit too much. But he'll be fine."
Celtics captain Paul Pierce tossed in his support for Garnett as well.
"He had a good run in practice [Wednesday]," said Pierce. "He was getting into a nice rhythm, offensive flow. You can have good practices and go out there and play bad games. You can have a bad practice and play good games. At the end of the day you still have to put it on the court regardless."
Asked about the sequence in which KG missed consecutive layups, while unable rise up and dunk the ball. Pierce noted: "It happens. I've done that throughout the course of my 12 years. We all miss layups, we all miss shots, you've just got to keep playing."
Lakers forward Pau Gasol might have stirred the pot, though, when he suggested Garnett has lost a step.
"On Kevin's part, he's also lost some explosiveness," said Gasol. "He's more of a jump shooter now you could say, comes off the lane. Before he had a really, really quick first step and was getting to the lane and he was more aggressive then. Time passes and we all suffer it one way or another, but he's still a terrific player, a terrific competitor, and he's going to bring everything he's got. You can count on that."
Kendrick Perkins likewise dismissed the injury talk and suggested Boston needed to get back to what worked so well against Cleveland in the conference semifinals.
"I think KG's been great these whole playoffs," said Perkins. "In the Miami series he was huge; against Cleveland he was even better. I thought in the Orlando series he did a good job of guarding Rashard Lewis. In this series, we gotta get back to demanding the ball on the blocks. We gotta get back to KG taking 20 shots per game like he did in the Cleveland series... We gotta find a way to post KG a little more."
Read more on KG & Gasol HERE. ESPN Boston's Peter May add his thoughts HERE.
Ainge on Doc, Thibodeau; Rondo re-injured?
Celtics president of basketball operations provided a couple of eyebrow-raising comments while appearing on Boston sports radio station WEEI (850 AM) Friday.
* Ainge suggested point guard Rajon Rondo might have tweaked his back during the second half of Thursday's Game 1 loss. "I'm not making excuses, I just felt that our guys were ready to play and played hard," said Ainge. "I think Rondo got hurt halfway through the game and kind of re-injured his back a little bit."
Rondo didn't appear to be compensating for an injured back during the portion of practice open to the media Friday, but did not engage fully in stretching drills. Read more about Rondo's back HERE.
* Ainge stated that he believes Rivers will be back next season, despite speculation that he might walk away at season's end. Ainge did note that associate head coach Tom Thibodeau, a hot commodity among teams with coaching vacancies right now, would be among the candidates considered, but also noted he would search outside the organization.
"[If Rivers leaves] then we'll put the search out and put Tom at the head of the class," Ainge said. "[Thibodeau is] somebody that we would consider and interview but we would also look at all the viable candidates and take our time if [Rivers walked away]. But I don't anticipate that happening."
Read more on Ainge's comments about Rivers' potential return HERE.
Loose balls: Doc aware of 47-0; Humbling film study
* Rivers was asked if he was aware of the fact that Phil Jackson's record is 47-0 when his team wins the first game of a best-of-seven series, leading to this exchange:
Q: I'm going to guess that you know Phil's record when he wins Game 1.
DOC RIVERS: Uh-huh.
Q. Do you know what it is?
DOC RIVERS: I don't know the record. I've just heard about it.
Q. I assume that --
DOC RIVERS: Well, you know, it's like I told our guys, because I assumed that this would come up. I don't know the record. I said also the last time we were in The Finals no team had ever come down from 24 in the second half. At some point, it happened.
* Film session provided a humbling reminder of all the things Boston did wrong Thursday, particularly the lack of desire and hustle.
"We had a film clip with all the 50/50 plays, and I don't think we won one of them," said Rondo. "They got all the loose balls. They dove on the floor first. They were the more aggressive team. Winning none of those categories, it's hard to win a game."