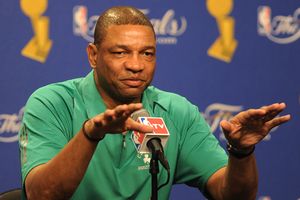 Mark Ralston/Getty Images
Celtics coach Doc Rivers isn't sure why his Celtics didn't show up for Game 1, but he doesn't think it will have a lasting effect.Celtics coach Doc Rivers is fond of joking about all the ailments that his team suffers from because of its advanced age. Here's one he can add to the list: memory loss.
That's a blessing for a Boston team that over the past three seasons has shown an ability to put ugly losses behind it when another team might let them fester.
So the day after an uninspired performance in a Game 1 loss to the Los Angeles Lakers, the Celtics acknowledged their shortcomings but refused to lament them at Friday's practice session at the Staples Center, noting there's little use sweating what's now in the past.
They can't go back and fix Game 1, but they can surely atone in Game 2.
Asked whether the Celtics ever let a loss stick with them, center Kendrick Perkins said, "Never. As a matter of fact, today [Game 1] is gone. Sure it's hard to watch film, go over it again. But we practice and once this day is over, we put it behind us and get ready for Sunday."
The Celtics last found themselves in this position exactly a month ago after the Cleveland Cavaliers stormed into TD Garden and handed Boston its worst home playoff loss in franchise history while taking a 2-1 series lead in the Eastern Conference semifinals.
Boston awoke to find what was essentially the obituary of its 2009-10 season in the morning papers. The Celtics responded by showing up for their own funeral and winning the next three games to bounce the Cavaliers in six games.
Click HERE to read the full story.