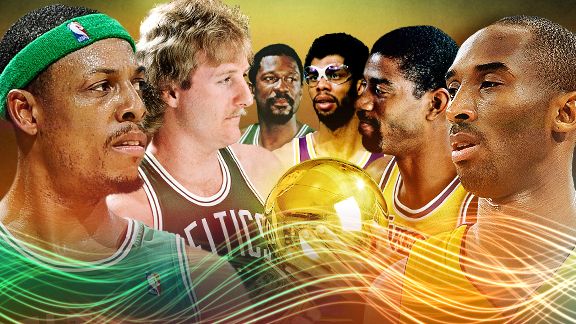 ESPN.com Illustration
We're starting a game of all-time pickup. Select your starting five.Given how a Lakers-Celtics showdown sparks so much talk about the history of both franchises, ESPN.com is offering fans the chance to vote for their all-time starting five for both teams. Vote early, vote often and share your thoughts on the ultimate Franchise 5. To get the ball rolling, here are my selections from the nominated finalists:
Point guard
Finalists: Rajon Rondo, Jo Jo White, Dennis Johnson, Bob Cousy, Tiny Archibald
Our choice: Cousy. The way Bob Cousy lauds Rondo's play, we're tempted to brazenly pick the fourth-year guard, who could be on the verge of his second world title, but instead we'll stick with the original NBA superstar and see how Rondo's career pans out. Cousy wasn't just the best scorer in this group, he was the best facilitator as well. It's no wonder he earned the league's MVP award in 1959. We reserve the right to revisit this decision in a decade.
Shooting guard
Finalists: Ray Allen, John Havlicek, Sam Jones, Reggie Lewis, Bill Sharman
Our choice: Havlicek. This one's a slam dunk, particularly because Allen hasn't accrued enough time in Boston. Although our Northeastern roots screamed a sentimental pick with Lewis, it's clear that Havlicek was the best all-around player in the group. A 13-time All-Star, eight-time world champion, four-time All-NBA team and eight-time all-defensive team selection, Havlicek did it all for Boston. The only beef you could make is that he wasn't a pure shooting guard and that Jones -- a 14-time All-Star -- probably would deserve this position more if you were to classify Havlicek as a forward.
Small forward
Finalists: Larry Bird, Paul Pierce, Cedric Maxwell, Tom Sanders, Antoine Walker
Our choice: Bird. Three-time champ, three-time MVP and the most beloved player in franchise history; this is another no-brainer. Pierce gets squeezed out, but there's no shame in that; few players could even be mentioned in the same breath as Bird. Not sure how Antoine Walker wiggled his way onto this list, unless we're adding a spot for the most ill-advised 3-point taker.
Power forward
Finalists: Kevin Garnett, Tommy Heinsohn, Kevin McHale, Paul Silas
Our choice: Heinsohn. After eliminating Garnett because of his limited years of service in Boston, this comes down to Heinsohn versus McHale. Although Heinsohn's duties for the club since his playing days make him the easy choice, even his playing numbers suggest he has an edge over McHale. It's hard to ignore the championship totals: Heinsohn 8, McHale 3. Sure, McHale had more All-Star Game appearances (seven to six), and his career stats are better overall, but he also played four more seasons. In the end, Heinsohn made the most of his time in the league.
Center
Finalists: Dave Cowens, Ed Macauley, Robert Parish, Bill Russell
Our choice: Russell. A 12-time All-Star, 11-time world champion, five-time MVP and probably the best defender of all time. And that doesn't even touch what he did as a coach and what he meant for race in professional basketball. This might be the most impressive group of competitors, however, as there are a lot of world titles in this group. Somewhere, Mark Blount is seething after not making the list of finalists.
In the interest of discussion, here's a look at how our second and third teams would look, with some positional reconfiguration based on the initial voting (we're squeezing Sharman and Allen on the third team by essentially carrying two shooting guards):
Second team
C: Dave Cowens
PF: Kevin McHale
SF: Paul Pierce
SG: Sam Jones
PG: Dennis Johnson
Third team
C: Robert Parish
PF: Kevin Garnett
SF: Ray Allen
SG: Bill Sharman
PG: Rajon Rondo
Want more? Check out whom ESPN LA's Andy Kamenetzky chose for the Lakers' Franchise 5.