Paul Pierce clearly isn't a fan of frequent flier miles. Ever since the start of the playoffs, he's made an assertion at every stop along the way that he'd prefer not return to the current opponent's arena.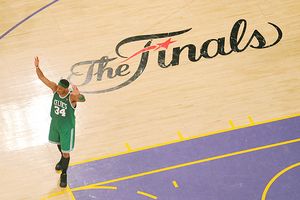 Juan Ocampo/NBAE/Getty Images
What was wrong with Paul Pierce suggesting the Celtics would close out the Lakers in five games? * With his Celtics boasting a 3-1 advantage over the Miami Heat as the first-round series shifted back to Boston, Pierce said he didn't want to return to South Beach unless he was on vacation.
* Owning a 3-1 advantage over the Cleveland Cavaliers before Game 6 against the Cavaliers at the TD Garden, he implored his teammates to end the series and prevent a third trip to Cleveland for a deciding Game 7.
* After stealing two games on the road to open the Eastern Conference finals against the Orlando Magic, Pierce told a national TV audience that Boston was coming home to finish off the series, then informed the crowd he'd see them next year as he walked off the floor.
So should anyone be surprised that ABC's cameras picked up Pierce telling Lakers fans late in the fourth quarter of Game 2 that, "We ain't coming back to LA"? Can we simply agree to take everything Pierce says in the heat of battle with a grain of salt from here on out?
Much like Pau Gasol's innocuous and honest comments Friday about Kevin Garnett having lost a step that triggered a media frenzy, Pierce's latest brazen statement is sure to become a major point before the series resumes in Boston Tuesday night with Game 3 at the TD Garden (ABC, 9 p.m.).
But what exactly did Pierce say that was wrong? Should athletes not believe their teams are capable of winning three straight games? Is there not a possibility that the Celtics could actually win three more games in a row and not have to fly back to the West Coast?
Didn't the 2004 Detroit Pistons (against, ahem, the Lakers) and 2006 Miami Heat win the three middle games as part of their championship campaigns?
But Pierce's comments will be construed as overly boisterous and taunting. Even though he's on record recently as noting that he simply likes to have fun with the road crowds that torment him for 48 minutes each night, Pierce's suggestions will be labeled bulletin-board fodder.
The fact remains that the Celtics are coming home with a chance to close out this series on their own turf. It's their reward for stealing home-court advantage from the Lakers by winning Game 2 Sunday night at the Staples Center.
Click HERE to read the full story.