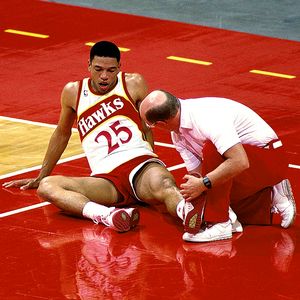 Andrew D. Bernstein/NBAE/Getty Images
Doc Rivers a flopper? Say it ain't so.BOSTON -- After a whistle-happy Game 3 in which the Lakers excelled in part due to Derek Fisher's ability to draw a charge, Celtics coach Doc Rivers came out with strong words about Fisher as a flopper.
During Saturday's media access, Rivers was asked how he'd feel if Fisher said he learned how to flop by watching Rivers during his playing days. Rivers smiled and said he would be happy. When a follow-up question asked about his generation and whether flopping was as prevalent, Rivers continued to have fun.
"I never flopped as a player; I was the cleanest player ever," Rivers said to laughter. "In our generation, we all did. We were all good at it. And I do think that's part of the game. It's funny, what I was saying about Fish the other day, I said he flops, he's good at it. I think guys, they understand that, and there's certain guys who have perfected it. To be a great flopper you have to be a great charge taker, too. Do you know what I mean by that? They do both, and that's what makes it so difficult.
"Fish and me and John Stockton, you can go through the list, they took charges and flopped on half of them, too. It's tough. It's a tough call. He's good."
Frustrated by the calls going against his team, Rivers sounded off after Game 3. And when a reporter asked about Fisher's ability to fight through screens, Boston's coach suggested it was flopping at times.
"What, besides flopping, [Fisher] doesn't do a lot extra," said Rivers. "He plays hard. He's been in the game long enough to understand. I thought he got away with a lot [in Game 3]. I thought there was a lot of holding going on and a lot of flopping going on, and finally he showed that last one. But he's good at it, he's always been good at it. We knew that going into the series. He's one of the best charge takers in the game. He's always been that. And some of them are charges and then some of them are flops, but all of them are tough to call. It is a brutal call to make, it really is a tough one.
"But as far as the off-the-ball action, single-double action, you are not allowed to hold. You're not allowed to bump and you're not allowed to impede progress. I read that this morning, and I'm positive of it. So you know, when that happens, then that has to be called."