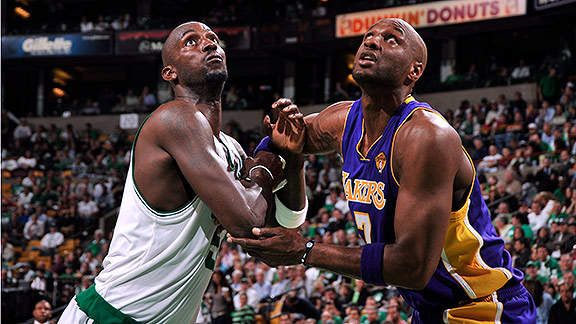 Brian Babineau/NBAE/Getty Images
After eight months of hoops, it's last call at the TD Garden for the 2009-10 season.BOSTON -- A collection of pregame news and notes before the Boston Celtics host the Los Angeles Lakers in Game 5 of the NBA Finals Sunday night at TD Garden:
The rundown (a quick look at pregame headlines)
* Final game at the Garden for the 2009-10 season
* Jackson: Bynum ready to play and perform
* Loose balls: Allen doesn't chat pregame; Thibs wants title
FINAL GAME AT THE GARDEN FOR THE 2009-10 SEASON
After an eight-month roller coaster ride, the Celtics hope to end on the upswing with their final home game of a wild 2009-10 season Sunday night at TD Garden.
It's a bittersweet moment, one that could put them on the brink of an NBA title, but unlike 2008, the Celtics have no choice but to clinch on the road, some 3,000 miles away from these (typically) friendly confines.
While Boston posted a pedestrian 24-17 mark at the Garden during the regular season -- this after losing just 12 games over the previous two regular seasons here -- the Celtics did carry an 8-4 postseason mark at the Garden into Game 5.
Celtics coach Doc Rivers acknowledged he's aware of the significance of Sunday's game, particularly with the future of the organization in limbo, but said his team's focus was solely on Game 5, and that's where he wanted it.
"Our guys haven't talked about [being the final home game] a lot," said Rivers. "I've heard it a lot. I think fans realize that we don't have Games 6 and 7 here, so this is our final home game. Our guys are really just focusing on the game tonight, and I like where our focus is, in this case, over the fans' focus. I don't know if players have a chance to look at the big picture, or coaches in some ways. That's probably good."
JACKSON: BYNUM READY TO PLAY AND PERFORM
Lakers coach Phil Jackson offered no update on center Andrew Bynum before Sunday's game, other than to note he's in the starting lineup for Game 5.
"No change since this morning," said Jackson. "He's ready to play the game and ready to go out there and perform."
Jackson was pressed on if the Lakers ever considered sending Bynum back out West after Game 3, which would have offered him nearly a full week to have the knee drained and recover before Game 6. Jackson twice noted that the team didn't even consider such an option.
From the Celtics perspective, Rivers indicated his squad didn't consider alternate plans for whether Bynum could go or not, but did note the difference he makes when on the floor.
"No, we're going to play the same," said Rivers. "Andrew is not going to change how we plya. Again, usually the last six or seven minutes of the game, Andrew is not on the floor; it's usually Gasol and Odom for the most part. That's what they'd done all year and they've done it this series. But he is a factor, his size is a factor, his length is a factor, and offensively, we do change things when he's on the floor to try to get the size out of the paint. But other than that there's not two game plans."
LOOSE BALLS: ALLEN DOESN'T CHAT PREGAME; THIBS WANTS TITLE
* Ray Allen, who was excused from practice Saturday to deal with a family issue, but chose instead to participate in the full session, did not emerge to chat with the media before Sunday's game.
* Celtics associate head coach Tom Thibodeau signed autographs on his way to the court for Sunday's warm-ups and, asked by a fan if he was excited about the head coaching opportunity that awaits in Chicago, he noted, "Yes, but let's win a championship first."
* As for the importance of Sunday's game, Jackson said that went without saying.
"Each team is trying to gain control, trying to put two wins together, obviously," said Jackson. "This is a big game for us to win, going back there with an obvious opportunity to win two games on our home court to finish it off, and they're going to probably be trying to replicate the intensity that they played the fourth game with."