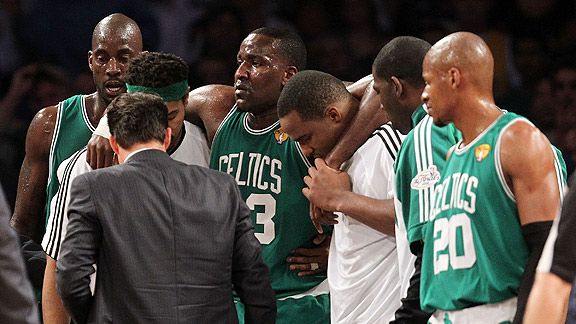 Ronald Martinez/Getty Images
Kendrick Perkins is helped off the court after injuring his right knee.LOS ANGELES -- Celtics center Kendrick Perkins landed awkwardly trying to haul in an offensive rebound midway through the first quarter of Game 6 of the NBA Finals and suffered a right knee sprain, according to the team.
Perkins did not return to the game and will be re-evaluated Wednesday.
Perkins spilled hard to the floor after being sandwiched between Andrew Bynum and Kobe Bryant as the trio battled for a loose rebound under the Boston basket with 5:30 to play in the first frame. Bynum got tagged with a foul for coming in over the top, and his momentum carried Perkins into Bryant.
Dr. Brian McKeon, the team's physician, attended to Perkins during a timeout on the floor and Perkins hobbled off using Brian Scalabrine, Glen Davis, and Shelden Williams as crutches. He went straight to the locker room for further examination.
Rasheed Wallace took Perkins' place in the lineup. Perkins played the first 6:30, missing the only shot he took.