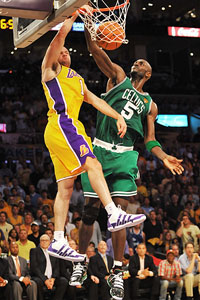 Paul J. Richards/AFP/Getty Images
Jordan Farmar dunks over KG.LOS ANGELES -- If you're a Boston Celtics fan, one silver lining after last night's loss: At least two more awesome day-after chats on ESPN.com.
OK, that's probably of no solace at all. Regardless, I'll be joined Wednesday at noon by ESPNLosAngeles' Arash Markazi and TrueHoop's Henry Abbott as we field all your questions about Game 6 like, "When exactly will the Celtics plane be arriving back in L.A.?" and "Wait, did you just say the season comes down to Rasheed Wallace?"
We know you got plenty of questions, or at least want to vent. Lament the injury that is likely to sideline Kendrick Perkins for Game 7, or wonder out lout how Jordan Farmar posterized Kevin Garnett (see the photo at right).
We'll touch all the bases as the hype machine kicks into high gear for Game 7.
Click HERE to join the fun.