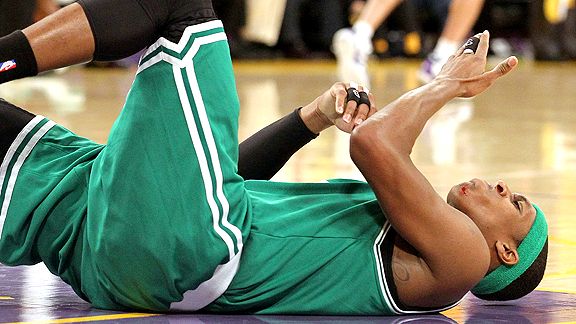 Ronald Martinez/Getty Images
Rajon Rondo lies on the floor after taking an elbow to the chin in Tuesday's Game 6 loss.LOS ANGELES -- A collection of news and notes after the Boston Celtics and Los Angeles Lakers practiced Wednesday afternoon at the Staples Center in advance of Thursday's Game 7 of the NBA Finals:
The rundown (a quick look at practice headlines)
* Rondo suggests he needed 17 stitches after Artest elbow
* With one final game, Doc pushes minutes to limit
* Loose balls: Doc on leprechauns; Baby on meditation
RONDO SUGGESTS HE NEEDED 17 STITCHES AFTER ARTEST ELBOW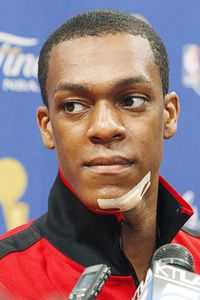 AP Photo/Reed Saxon
Rondo chats with reporters Wednesday.Celtics point guard Rajon Rondo sported an oversized bandage on his gashed chin during Wednesday's media session at the Staples Center, but it couldn't cover up his frustration after absorbing an elbow from Ron Artest in the third quarter of Tuesday's Game 6 loss.
"Just a little cut, a little gash," said Rondo, who was then asked how many stitches it required to close and sounded off on the lack of a call. "Seventeen. Seventeen. No foul; just one of the many, many missed fouls."
After Tuesday's game, Rondo said he needed only four stitches to close the gash and the Celtics confirmed Wednesday night that's all he received.
But Rondo likely inflated the number -- with a nod to the total number of Celtics championships heading into Thursday's Game 7 -- to draw attention to the play. He remained incredulous at the lack of a foul call and, after the initial contact, Rondo even showed the referees his bloody towel during a timeout.
"I don't think it was intentional, but it was definitely a foul, one of the fouls that wasn't called," Rondo said after Tuesday's game. "But that's how it goes. You have to still continue to play the game. It didn't affect the way I tried to play. I didn't play much more after. The game was over obviously."
Rondo seemed focused on Game 7, acknowledging that Boston's biggest problem was a familiar one: A stagnant offense born out of an inability to gets stops on defense.
"We didn't get any stops," said Rondo. "You can't run if you're taking it out every time. We have to do a better job of getting stops."
Rondo has produced some of his best efforts in virtual must-win situations these playoffs, including triple-doubles in Game 4 against Cleveland (after Boston endured the worst home playoff loss in franchise history to go down, 2-1, to the Cavs) and Game 2 against Los Angeles (the Lakers looking to take a 2-0 lead to open the series).
Can we expect extraterrestrial Rondo in Thursday's Game 7?
"I just need him to be him," said Celtics coach Doc Rivers. "I don't need anyone to be great. Obviously, Rondo is important to our team. First half we really just couldn't get any pace in the game because they just dominated the game so thoroughly. They made every shot, and when they didn't make the shot, they got the rebound. So we have to create some kind of pace for him.
"And then [Rondo] has to create a pace. I thought he was looking for too much stuff instead of being aggressive. One of the things we told him: Rondo has the best instincts that I've ever coached in the open court, and he has to allow those instincts to take over. I thought he allowed his thinking to take over [Tuesday]. He was trying to run stuff, trying to get guys in stuff. And with Rondo, he has great instincts and he has to let those take over."
WITH ONE FINAL GAME, DOC PUSHES MINUTES TO LIMIT
The absence of Kendrick Perkins will force Rivers to shorten his bench that much more as Rasheed Wallace is expected to draw the start in Game 7.
That's likely to leave a rotation leaning primarily on a three-man bench of Glen Davis, Tony Allen, and Nate Robinson, with Shelden Williams, Brian Scalabrine, Michael Finley and Marquis Daniels only utilized in emergency situations. Heck, Rondo might be asked to play the entire 48 if he doesn't get gassed.
"Forty-eight," answered Rivers, when asked about minute limits, though he'd surely stretch that for overtime. "It's funny, with Kevin [Garnett], there's still always a limit with all your players because there's only a limit that they can take and play well. If it's 40 minutes and he can still be productive -- let's say if you played him 42 minutes and it took away from him being productive, then you're playing him too many minutes. We're going to stretch to that limit, I can tell you that. I don't know what that number is, though."
The other wild card is how much Wallace can account for, including whether he can shoulder the typical 25-minute load that Perkins averaged during the postseason. Could Wallace and his balky back log 25-30 minutes?
"It's [Game 7]," said Rivers. "We're hoping he can."
LOOSE BALLS: DOC ON LEPRECHAUNS; BABY ON MEDITATION
* On the eve of Game 7, Rivers was asked if he believed in leprechauns and luck.
"I do. I didn't about four, five, seven years ago, but now I do," said Rivers. "I don't know, I believe that we have to play well at the end of the day. You make your luck. And the more you prepare, the luckier you get, and that's what you have to do."
Asked if he'd rather be good than lucky, Rivers said he wouldn't mind a little of both.
"I'll take good for sure," said Rivers. "But I'll take both if I can get it."
* Glen Davis provided some laughs when asked about the Lakers' practice of meditating the morning of game days. Here's the back-and-forth:
Q. The Lakers say they're going to meditate tomorrow morning, like they do every game day.
DAVIS: They meditate? What's that?
Q. They sit there in the dark and concentrate on their breathing and make their minds calm.
DAVIS: For real? I'm going to try that.
Q. You can paralyze yourself doing that, hurt yourself.
DAVIS: If it's what they do to get ready for the game, hey, whatever floats your boat.
* First it was Shrek and Donkey references, now maybe we'll see a twisting fistpound from Davis and Robinson after the latter made a "Talladega Nights" reference in relation to his team's Game 7 attitude.
"If you ain't first, you're last. It's like Ricky Bobby," said Robinson, borrowing from the main character's lines. "Will Ferrell said so. There's going to be a lot of shake and bake [Thursday]."
ESPN Los Angeles' Dave McMenamin contributed.