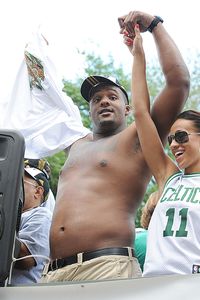 Brian Babineau/NBAE/Getty
Glen Davis, sans shirt, at Boston's 2008 rolling rally.LOS ANGELES -- Asked about the magnitude of Game 7, Celtics forward Glen Davis said it's all anyone could have wished for.
"This is what the NBA wants, this is what the fans want, this is what the world wants: Game 7, Lakers vs. Celtics," he said. "It's history."
And what does Davis want?
"I want to be on a float taking my shirt off, screaming and celebrating a championship," Davis said, referencing his shirt-free appearance at the 2008 rolling rally. "I want to be on a float next Monday."
Fortunately for Davis, he's likely to greatly affect whether he gets to shed his shirt in public next week. With Kendrick Perkins sidelined with two torn ligaments in his right knee, Davis is set to be thrust into an increased role on the sport's biggest stage.
"Baby will be great, and just get back to just playing," said Celtics coach Doc Rivers. "I think Baby, the last couple games, has been doing way too much thinking. Baby is an instinctive intensity player. When he starts playing with thought, that's not what you want."
Then Rivers caught himself.
"Boy, that sounds terrible," he said to laughter. "I don't mean it that way. But it does sound terrible.
"He's an instinctive player and I think he has to get back to playing with the energy and the instincts instead of thinking what [Davis] need to do. That happens. We predicted that a little bit for him."
Perkins went so far as to suggest that Davis will be the most important player in Thursday's Game 7 and has been in his ear for the past 48 hours.
"I've been talking to Baby all day [Wednesday], all throughout our film session," said Perkins "I told him, he's the most important guy right now. Just with his young legs, finishing around the basket, his defense. I think he's the key guy.
"Rasheed [Wallace] is obviously going to play a huge role. But I told Baby, if he can get 11 rebounds tomorrow, we got a good shot to win this game."
Eleven, as in Davis' jersey number. The one he'd like to tear off and go shirtless if the Celtics win another world title.