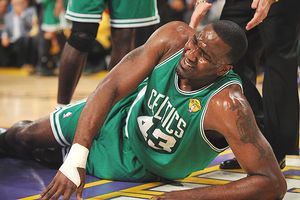 Noah Graham/NBAE/Getty Images
Can the C's overcome the loss of Kendrick Perkins?LOS ANGELES -- How much will the Celtics miss Kendrick Perkins in Thursday's Game 7? The wizards at ESPN Stats and Information compared the regular-season numbers based on the 14 games Perkins missed since the Big Three united in 2007-08 and didn't find much of a difference.
The Celtics are 167-65 (.720 winning percentage) with a healthy Perkins and averaged 100.3 points per game, while allowing 93.1 points. Boston is 11-3 (.786 winning percentage) without Perkins and averaged 99.6 points per game, while giving up 93.4 points -- both marginal changes compared with him in the lineup.
But a closer look at the numbers in this Finals series suggests that Perkins' loss is much greater than what the regular-season statistics suggest.
In the 141 minutes Perkins played against the Lakers, the Celtics were minus-5 points in net point differential (minus-1.7 per 48 minutes), while minus-15 points (minus-4.9 per 48 minutes) in the 147 minutes he was off the court.
Zoom in even closer, focusing on the post matchups when Perkins goes against Pau Gasol and Andrew Bynum, and you see an even bigger impact. Perkins ranked first in points per play allowed (0.62) and second in opponent's field goal percentage (31.2 percent) during this year's postseason (minimum 20 plays).
In post-up situations, Bynum and Gasol were 5-of-14 (35.7 percent) against Perkins, averaging a still better-than-average .90 points per play. But when others defend the duo in the paint, Bynum and Gasol combined to go 55-of-109 (50.5 percent) and average a staggering 1.03 points per play.
Rasheed Wallace has done a nice job defending Gasol near the basket, using his physicality to push him away from post-up opportunities. Both Wallace, Glen Davis and Kevin Garnett must step up their defense around the basket in the absence of Perkins.