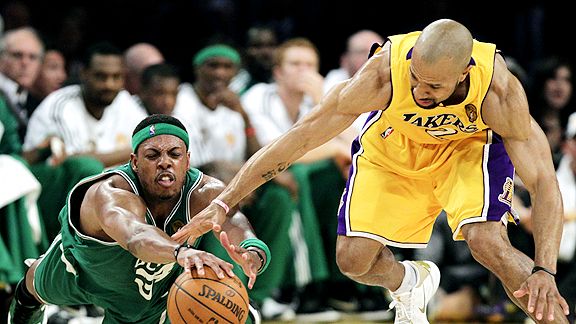 AP Photo/Jae C. Hong
The Celtics let a 13-point third-quarter lead slip away in Game 7.LOS ANGELES -- Instant reaction after the Los Angeles Lakers posted an 83-79 triumph over the Boston Celtics in Game 7 of the NBA Finals Thursday night at the Staples Center:
HOW THE GAME WAS WON: Kobe Bryant shook off early shooting woes to score a game-high 23 points on 6-of-24 shooting as the Los Angeles Lakers rallied to repeat as NBA champions. The Celtics boasted a double-digit lead into the second half thanks in large part to a balanced output by their starting five as Paul Pierce (18 points), Kevin Garnett (17 points) and Rajon Rondo (14 points, 10 assists) shouldered the offensive output. Ray Allen scored 13 points, but was a mere 3-of-14 shooting.
TURNING POINT: Nursing a three-point lead midway through the fourth quarter, the Celtics watched Derek Fisher rip the twine with a 3-pointer that tied the game at 64 and the Celtics' foul trouble allowed the Lakers to pull ahead at the stripe. Bryant connected on two freebies to give the Lakers their first lead since 8:06 of the second quarter, then drilled a 17-foot jumper for a four-point cushion.
LETTING IT SLIP AWAY: The Celtics led by 13 after a driving layup by Rondo with 8:24 to play in the third quarter capped a 7-0 burst for a 49-36 advantage. Boston still led by nine with little more than three minutes to play in the period, but the Lakers whittled the lead to four before the end of the quarter and made their charge in the final stanza.
STAT(S) OF THE GAME: The Lakers dominated on the offensive glass, collecting a staggering 23 offensive rebounds, which negated a dismal shooting performance (27-of-83, 32.5 percent) ... The Lakers also benefited from a hefty free throw disparity, shooting 37 free throws compared to Boston's 17.
UNSUNG HERO: Labeled a disappointment for much of the series due to his offensive struggles, Ron Artest responded by scoring 20 points on 7-of-18 shooting with two monster 3-pointers, including one with a minute to play that helped the Lakers fend off Boston's furious last-minute rally.
WHAT IT MEANS: Boston's rather improbable journey to the brink of an NBA championship ends in heartbreak after dropping the final two games of this series in Los Angeles. The Celtics will undoubtedly look back and lament what could have been after spoiling two chances to clinch their 18th world title, including a Game 6 in which they hardly showed up and a Game 7 in which they led by double digits with little more than 18 minutes to play.