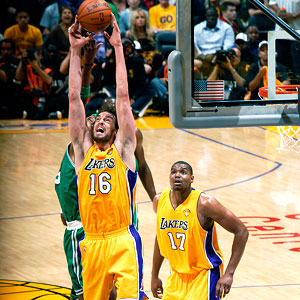 Andrew D. Bernstein/NBAE/Getty
Pau Gasol wins the battle for another rebound.LOS ANGELES -- Some Boston fans will point to the free throw disparity as the reason the Lakers topped the Celtics in Game 7 of the NBA Finals Thursday at the Staples Center. They should know that the free throws wouldn't have even been an issue if it weren't for the 23 offensive rebounds Los Angeles hauled in.
ESPN Stats and Info provides the breakdown on those caroms noting that, off those 23 offensive caroms, the Lakers generated seven made field goals for 17 points and drew three fouls, which generated six of their 37 freebies on the night.
What's more, of the 11 missed second-chance opportunities, the Lakers hauled in five of those misses for a quintet of third-chance opportunities.
That's inexcusable.
"I thought our guys battled down there, but 23‑8 on offensive rebounds, and then the 37‑17 discrepancy in free throws, that makes it almost impossible to overcome," admitted Celtics coach Doc Rivers.
It's unlikely even the presence of Kendrick Perkins would have negated the way the Lakers dominated the offensive glass. A number as high as 23 speaks to a problem larger than just one player's absence. The Celtics struggled all series long to negate the second-chance opportunities and it might ultimately be the main reason the Larry O'Brien trophy is staying on the west coast.
"We were just active," said Pau Gasol. "I guess they were shorthanded inside and they knew that. But we were just active. We knew we weren't shooting the ball well, so we had to be extra active and extra aggressive going to the boards and giving ourselves more opportunities to be able to score. So, obviously, 32 percent shooting from the field, 66-67 percent shooting from the free throw line is going to give you opportunities to get rebounds, and we did, and it was definitely a big number. Twenty-three offensive rebounds, you don't see that very often, but it just tells how much we wanted this and how much will and determination we put into this."
A closer look at the offensive rebounding stats also showcase just how worn down Boston was in the second half. Los Angeles registered 15 offensive rebounds in the first half, but was 4 of 13 on putback attempts, registering nine points and drawing one foul. In the second half, the Lakers grabbed eight rebounds and went 3 for 5 on putbacks, scoring eight points and drawing two fouls.
Boston had two chances to close out the Lakers on the road. Unlike Los Angeles, Boston couldn't take advantage of its second-chance opportunity in Game 7.