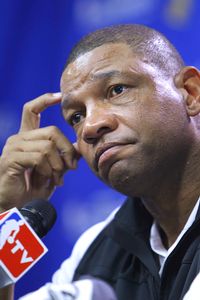 AP Photo/Mark Duncan
Celtics coach Doc Rivers hasn't made a decision, but he's leaning towards one side.Doc Rivers said he has not made a decision about his future, but he's leaning in one direction, and it sure sounds like he's set to walk away from the Boston Celtics.
Making his final appearance of the 2009-10 season on Boston sports radio WEEI (850 AM) on Monday morning, Rivers revealed that he has had one small conversation with his family about his future, and they will sit down as a unit again in about a week to finalize his decision.
But Rivers' tone throughout the call was one of a father ready to spend more time with his family, particularly coming one day after the Father's Day holiday.
"[Father's Day] was nice," said Rivers. "A couple of my kids were out of town, playing sports, as usual, but it was nice to be home, to have family around. So that's always nice.
"We didn't talk about [a decision] at all, really. We've only even brought it up once since the season has been over. It's still very difficult to get through Game 7 [of the NBA Finals], let alone talk about the future, to be honest."
Pressed if he could look someone in the eyes and promise he hadn't made a decision, Rivers admitted he was leaning in one direction.
"I'm not going to say which way I'm leaning, and I am one way, but I can look you in the eye and tell you I have not made a decision. We've only had one small conversation and we're going to do that in the next week or so."
Rivers also admitted that he's already thought about his potential post-coaching career, including his desire to do a limited TV broadcast schedule that would keep him active, but also allow the freedom to see his kids play.
He admitted he doesn't know if that's feasible, but the mere fact that he's considered it might tell you a little about which way he's leaning.
Click HERE for more of Doc's comments.