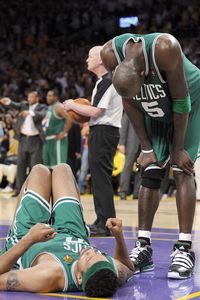 AP Photo/Mark J. Terrill
Rasheed Wallace and Kevin Garnett looked gassed late in Game 7 of the NBA Finals.Boston Celtics coach Doc Rivers reiterated Monday his belief that Rasheed Wallace will walk away from basketball this summer, revealing that the 15-year veteran told him before Game 7 of the NBA Finals that he thought it would be his final NBA contest.
Making his last appearance of the season on Boston sports radio WEEI (850 AM), Rivers discussed Wallace's future and all the things that went wrong in the Celtics' Game 7 loss to the Lakers last week.
"I think you have [seen Wallace's last game]," Rivers said. "He was so emotional right after the game, but Rasheed told me the night before that, 'I'm going to give you everything I've got. I really believe this is my last game that I'm going to play.'"
* Rondo & rest: Rivers admitted he wished he could have gotten point guard Rajon Rondo some additional rest. The point guard logged 45 minutes of action, and seemed gassed in the final frame when the Lakers pulled away. "I think I should have given Rondo another blow, I thought he was tired," said Rivers. "I thought he played that way in the fourth. That was a tough one, he was starting to play well through the middle of the third, it was tough to pull him out. It's easy to say now."
* Post-mortem: Rivers said the Celtics called plays to get the ball to the post in the fourth quarter, but it never ended up there, but he wonders how effective it would have been, regardless. "Watching the game again, watching Kevin [Garnett] and Rasheed run up and down the floor, I don't know what we could have gotten out of the post. I just thought that was an area we stopped attacking and we probably should have attacked more."
* Foul play: The Lakers boasted a 37-17 advantage in total free throws, and really capitalized in the final frame. "The whole fourth quarter, [fouls] hurt us a lot. Fouls and foul shots. They scored 30 points and, if you're looking at a raw stat sheet, you think, 'Wow, we gave up 30 points in the fourth quarter.' When you watch it again, you see all those free throws -- it was a free throw line parade. That's the one line you can't defend, and we were never allowed to defend because they were on the free throw line too much."
* He earned his Wheaties: Rivers admitted Ron Artest was the difference for the Lakers. "Artest, clearly Artest. We didn't defend him the way we should have defended him. We were helping off him more than we were supposed to and he made shots. Give him credit, he made shots and he was aggressive. I thought Ron Artest was the difference in that game. Kobe [Bryant], when you go into Game 7, you expect Kobe being Kobe and [Pau] Gasol being Gasol. But you gotta shut down the other guys. You can't let the others get into the teens or the 20s, and that's what Artest did."
* Downright offensive: The Lakers also dominated on the offensive glass, collecting 23 offensive caroms. "Offensive rebounds destroyed us," said Rivers. "That stretch early gave them life, even though it was first-quarter rebounds, I just thought that gave them the sense that they could pound us on the glass all night. And that's basically what they did."