The first in a series of profiles of players that might be of interest to the Boston Celtics during Thursday's NBA Draft:
In his recent mock drafts, ESPN.com's Chad Ford pegs Solomon Alabi as the Celtics' choice at No. 19. Before Game 6 of the NBA Finals it seemed like a bit of a stretch for a team that appeared to have a bigger need for a shooter. But then Kendrick Perkins tore two ligaments in his knee and Doc Rivers suggested Rasheed Wallace could walk away from basketball this summer. Suddenly, Boston is very much in the market for a big.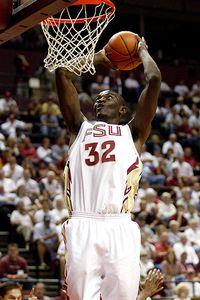 Rex Brown/Getty Images
From ESPN's Player Evaluation:
Projection: Late lottery to mid first round
Positives: Long, athletic big man... Excellent leaper.. Great shot-blocker... Runs the floor well for a big man... Good motor... Emerging low-post game... Charismatic kid, natural leader.
Negative: Needs to add strength... Still raw on the offensive end... Under performing rebounder.
Ford's analysis: Alabi has the size NBA teams covet. He also has the motor. However, he's still raw and coming off knee surgery. He's got to show teams that he's not the next in a long line of big-man busts mostly by convincing them that he'll be content as a shot-blocking/rebounding specialist. If he plays physical and does the dirty work in workouts, he should be a lock for the first round. He could be a great fit on a team that needs more size, such as the Celtics, Thunder or Spurs.
Forsberg's take: The hype around Alabi and his potential is intriguing and everyone gushes about his smarts. His athleticism could be perfect when paired with a point guard like Rajon Rondo. But the red flag appears to be his rebounding. Put it this way: 6-foot-9 Shelden Williams averaged 11.2 rebounds per game as a junior at Duke; Alabi averaged 6.2 rebounds per game as a sophomore. It's clear he needs to hone that aspect of his game and toughen up a bit. Playing against Kevin Garnett and Kendrick Perkins each day will aid that cause, but coming off a devastating Game 7 loss to the Lakers, you can't help but wonder if the Celtics need a big that's simply more committed to rebounding. One other concern: Alabi broke his leg his freshman year at FSU and you can't help but wonder if that's a potential recurring injury issue for any big man.