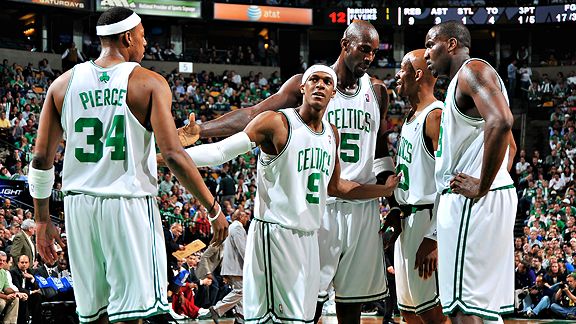 Brian Babineau/NBAE/Getty Images
If the Celtics keep their starting 5 intact, they'll still need help.Sometimes it's good to be bad. At least for the first 82 games of the season.
One of the unintended benefits of the Celtics' late-season tumble to fourth place in the Eastern Conference is that they've stumbled into a lofty pick with the No. 19 selection in the 2010 NBA draft.
While Boston's final three postseason opponents -- the Cavaliers (whose 30th pick is owned by the Wizards), Magic (29), and Lakers (whose 28th pick is owned by the Grizzlies) -- all boast selections in the back end of the draft, Boston shimmied all the way up to the teens, securing the best possible position for its record.
Boston benefited from winning a four-way tiebreaker among teams that finished with a 50-32 mark, vaulting from as low as No. 22. The Celtics are fortunate the NBA doesn't enforce the same rule as the NFL, where the two teams in the championship game assume the final two spots in the draft. Especially since this year's pick could be so vital to the success of the 2010-11 squad.
Click HERE to read the full story.