The third in a series of profiles of players that might be of interest to the Boston Celtics during Thursday's NBA Draft:
While James Anderson is projected as a late first-round selection, experts including ESPN.com's Chad Ford have suggested he could be picked in the late teens because of his scoring abilities. Ford's latest mock has him at No. 17 with Chicago and there's a buzz that a team could trade up to grab him in that same range.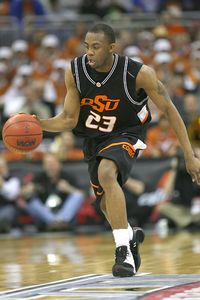 Jamie Squire/Getty Images
From ESPN's Player Evaluation:
Projection: Mid to late first round
Positives: Scoring wing man... NBA body and long arms... Slasher who knows how to get to the line... Solid shooter with NBA 3-point range... Good rebounder for a guard
Negative: A bit one-dimensional as a scorer... Not an elite athlete... Needs to improve his ball handling... A so-so passer
Ford's analysis: Oklahoma State's James Anderson can clearly put the ball in the bucket, but they do it in different ways. Anderson isn't the quickest nor the most explosive athlete, but he uses his size, toughness and a knowledge of how to get to the basket and get separation to pour in the points. While he wasn't a showstopper in the drills portion, when they rolled out the ball for 3-on-3 play, he dominated. No one who guarded him could do much to stop him. He even displayed an underrated skill -- his ability to hit the open man when the defense collapses in the lane.
Forsberg's take: Google James Anderson and Wikipedia now -- two days before the NBA Draft -- and the first result is for a cricketer. We're guessing that might change in the months to come if Anderson is as talented as most project. If Anderson is still kicking around at No. 19, it might be hard for the Celtics to pass on him. He's got great size, which might allow him flexibility to play both the 2 and 3 in a reserve role. The knock of being one-dimensional might not be an issue for an offense-starved Celtics squad. An Oklahoma State product, he'd potentially join another Cowboy in Tony Allen if the Green re-sign him and the two would provide a nice offense/defense foil as swingmen off the bench.
Previous profiles: Solomon Alabi | Jordan Crawford