The fourth in a series of profiles of players that might be of interest to the Boston Celtics during Thursday's NBA Draft:
Projected as a lottery pick, the 21-year-old Hassan Whiteside reportedly didn't interview well and his draft stock might slip enough for the Celtics to have a chance at him at No. 19. In fact, ESPN.com's Chad Ford pegged him at No. 22 in his latest mock, but suggested the Trail Blazers -- who own that spot -- might be more interested in climbing to get a player like Solomon Alabi (previously profiled HERE).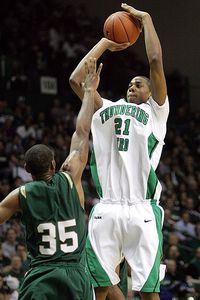 AP Photo/Randy Snyder
From ESPN's Player Evaluation:
Projection: Lottery
Positives: Long, athletic forward ... Explosive leaper ... Very quick for a big man ... A terror on the defensive end ... Dominating shot-blocker ... Good rebounder
Negative: Needs to add strength ... Raw offensively ... Horrific free throw shooter ... Old for his class
Ford's analysis: Whiteside is the draft's biggest "high risk/high reward" player. He had a terrific freshman season, recording an amazing three triple-doubles for Marshall. His measurements were off the charts in Chicago -- a whopping 7-7 wingspan and a 9-5 standing reach. When the athletic combine numbers are released later this week, I expect him to be one of the top players there, too. He's been compared to everyone from Marcus Camby to Tyrus Thomas. Teams are looking at him as high as No. 6, but many teams believe he could drop into the mid-to-late first round depending on workouts and interviews.
Forsberg's take: His positives are the type that would make any Celtics fan salivate: "Terror on defensive end ... Dominating shot-blocker ... Good rebounder." That sure sounds exactly like what Boston could use in its frontcourt. But all accounts seem to suggest he's a project, both physically and mentally (even at 21, he only played one year of college ball at Marshall). While the Celtics are still working on Glen Davis' maturity, do they want to add another big that might need coddling?
Previous profiles: Solomon Alabi | Jordan Crawford | James Anderson