The fifth in a series of profiles of players that might be of interest to the Boston Celtics during Thursday's NBA Draft:
Playing in the shadow of likely top pick John Wall, Eric Bledsoe is flying a bit under the radar as Thursday's draft approaches. Chad Ford's latest mock (version 6.1) has Bledsoe hanging around until No. 18, an indication he might still be available when Boston picks one spot later. While Boston already has a pretty good Kentucky point guard, remember that Bledsoe is thought to be the second-best point guard in the draft.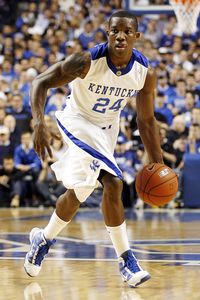 Mark Zerof / US Presswire
From ESPN's Player Evaluation:
Projection: Late lottery to mid first round
Positives: Super-quick point guard ... Pass-first point guard ... High basketball IQ ... Big 6-foot-7 1/2 wingspan ... Explosive leaper ... Terrific motor ... Excellent toughness ... Tough defender ... A leader
Negative: Lacks a consistent outside jumper ... A bit turnover prone ... Took a backseat to John Wall this year ... A year older than most of his class
Ford's analysis: Bledsoe may have played second fiddle to John Wall all year, but NBA scouts have been paying close attention. They love his speed, athletic ability and toughness on both ends of the floor. While scouts feel he needs to improve his shooting off the dribble and his decision-making, he may be the second-best point guard prospect in the draft. Look for him to go somewhere between 12 and 20 on draft night.
Forsberg's take: Some will wonder why the Celtics would use a draft pick -- especially one as lofty as No. 19 overall -- on a player that would essentially be utilized in the handful of minutes each night that All-Star point guard Rajon Rondo is not on the floor. If Game 7 of the NBA Finals proved anything, such a player can be mighty valuable when Rondo finds himself gassed. Boston got by with smoke and mirrors (also known as Tony Allen and Nate Robinson) during the 2009-10 season, but would be well-served to have a true backup on the floor in future seasons -- particularly if that backup was the best remaining player on the draft board. Alas, more immediate needs likely win out over Bledsoe's potential.
Previous profiles: Solomon Alabi | Jordan Crawford | James Anderson | Hassan Whiteside