The sixth in a series of profiles of players that might be of interest to the Boston Celtics during Thursday's NBA Draft:
After suggesting the Celtics had their eyes on Florida State's Solomon Alabi for nearly all of his mock drafts, ESPN.com's Chad Ford stirs the pot in version 6.1 of his prognostications, saying the Celtics could target Damion James at No. 19. While not as much of a scorer as those previously profiled in this space, James does add talent (and size) to the wing position.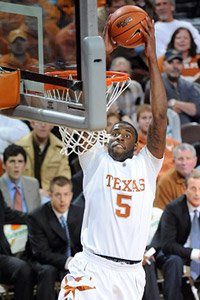 Brendan Maloney/US Presswire
From ESPN's Player Evaluation:
Projection: Mid to late first round
Positives: Super-tough, physical forward ... Long arms, NBA body ... Good athlete with some explosive leaping ability ... Good offensive rebounder ... Dramatically improved perimeter game ... Some range on his long ball
Negative: A tweener? ... Undersized to play his natural position at the 4 ... Still needs polish on the offensive end ... Needs to improve ballhandling
Ford's analysis: Last [May], nearly every NBA team had written off James. After an unimpressive combine in Chicago, James withdrew from the draft and most NBA teams penciled him in as a second-rounder in 2010. But James has been gaining momentum all year. NBA teams loved his toughness, motor and athleticism. But they questioned what position he would play in the NBA. James has worked hard on his perimeter skills and this year became a much more convincing small forward.
Forsberg's take: If a player was judged by the sum of his parts, James would be at the top of most team's draft boards. It seems requisite for any analysis to mention how much teams love his athleticism and his motor (one of our favorite draft buzzwords). Then comes the "but ..." No one seems to know where James will play at the next level, or at least if he'll be able to excel as a big 3 or undersized 4. James is described as "NBA ready," which is something the Celtics will seemingly want attached to anyone they're drafting at No. 19.
Previous profiles: Solomon Alabi | Jordan Crawford | James Anderson | Eric Bledsoe