The 10th in a series of profiles of players that might be of interest to the Boston Celtics during Thursday's NBA Draft:
A knee injury as a senior in high school, coupled with limited play at Kentucky last season, could scare lottery teams away from Daniel Orton. But ranked the No. 3 center in the draft by ESPN, could the Celtics afford to look past him at No. 19?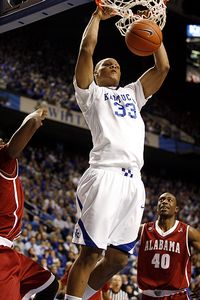 Mark Zerof/USPresswire
From ESPN's Player Evaluation:
Projection: Lottery
Positives: Strong, physical big man ... Huge wingspan allows him to play bigger than he is ... Good rebounder ... Solid shot-blocker ... Can muscle his way to the basket in the post
Negative: A bit undersized to play center in the NBA ... Isn't an off-the-charts athlete ... Limited playing time at Kentucky
Ford's analysis: Orton tore cartilage in his left knee in November 2008 and ended up missing his senior year of high school. This past February, Kentucky coach John Calipari noted to the media that he felt Orton was still hobbled by the knee -- although Orton, at the time, claimed it was 100 percent. While teams that had the information stressed that the concerns have not scared them away from drafting him, they do muddy the waters a bit when you factor Orton's sparse playing time this past season and the fact that he lacks the production of other big men in the draft.
Forsberg's take: Sure, his college stat line looks a lot like Shelden Williams' stat line this past season, but don't let that scare you away from Orton. He might be a bit small for the center spot, but he's physical enough to be a force in the Boston frontcourt. Defensively, he's a perfect fit, and his ability to rebound and block shots would be a welcome addition for the Celtics. Offensively, he's regarded as a strong finisher who bulls his way to the basket; that's something Boston really needs considering the struggles Kendrick Perkins and Glen Davis often exhibit in trying to finish around the basket.
Click HERE to view all previous draft profiles.