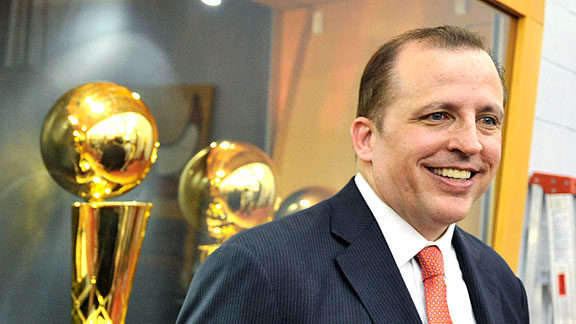 AP Photo/Jim Prisching
The Bulls formally introduced Tom Thibodeau as their new head coach Wednesday.The Bulls formally introduced Tom Thibodeau as their new head coach Wednesday morning in Deerfield, Ill., and the former Celtics assistant stressed that he would not have left Boston if he didn't think he could shape Chicago into a championship contender.
Thibodeau, credited as the architect of Boston's defense over the past three seasons, heaped praise on the Celtics organization for allowing him to pursue his first head coaching opportunity in the middle of the team's playoff run.
"It's been a long wait for me to get a coaching job and to be in this city with this team is a dream come true for me," said Thibodeau, who stressed he was long searching for the ideal situation to step into with his first top job.
"I would not have left Boston if I felt this wasn't an opportunity where the Bulls were in position to become championship caliber team. When I looked into all the components -- ownership, front office, the players they have, how committed they are to building a championship-caliber team and moving in that direction. That was a big part of my decision to come here."
Thibodeau took numerous opportunities to thank the Celtics for what they meant to his development as a coach.
"I'd also like to thank [Celtics president of basketball operations] Danny [Ainge], [head coach] Doc [Rivers], and the Celtics organization for what they've meant to my career. It was a great three years, winning a championship and nearly a second one. I feel all the things they did for me helped me get here."
Bulls general manager Gar Forman apologized for the delay in introducing Thibodeau, who accepted the job 18 days ago during the early stages of the NBA Finals, noting, "Tom's been a little busy the last couple of weeks. He took the weekend off and looks refreshed. Walking around, a number of people said, you look a little older on TV. He looks young and ready to go now."
A handful of quick hits from the conference:
* Thibodeau on interviewing during the Finals: "The one thing about the Celtics organization is that they're absolutely fantastic. Their trust and their understanding to allow me to interview, I can't say enough about them. The ownership group led by Wyc Grousbeck, Steve Pagliuca, and Bob Epstein, along with Danny and Doc, I can't say enough. They're great guys, classy, and they had trust in me to not jeopardize preparing for the Lakers. Obviously, my first priority was to win that series. We came up short in the end and there's disappointment in that, but to work for a classy organization, they knew it was my dream and aspiration [to be a head coach], and they allowed me to pursue it."
* Asked about coaching in Chicago, Thibodeau noted that Rivers, a Chicago native, dispensed plenty of advice, particularly about championships in the city: "He made me aware of Bears of the '80s, Bulls of the '90s, the White Sox and Cubs." He probably should have swapped Blackhawks for Cubs.
* Thibodeau didn't disclose if he planned to bring in any other Celtics assistants as part of his staff, but noted, "There's a number of qualified coaches that I want to talk to, some are under contract... We'll put a premium on teaching."
* Thibodeau said that, while it was Boston's policy to not allow assistant coaches to talk to reporters, he said he did look forward to the increased media responsibilities, noting it comes with the territory.
* Despite his defensive reputation, Forman stressed Thibodeau's offensive creativity. "He's got a very creative mind and we like the [offensive] ideas he presented using the talent we have," said Forman.
* Forman concluded his introduction of Thibodeau with: "Tom Thibodeau is a winner, we're excited to have him here, and excited to have him as our leader."