News that the Boston Celtics are shopping their No. 19 pick in Thursday's NBA Draft, shouldn't come as a surprise, but don't assume the team is looking to ditch the pick at all costs.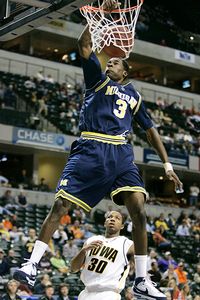 Getty Images
If Boston can't find proper value at No. 19, it might trade away its first-round pick and look to value bodies like Michigan's Manny Harris in Round 2.Boston's desire to flip the pick will likely depend on the activity in the 18 spaces before them. The team might not be enamored with the bodies they currently project to be remaining by the time their selection comes around, but there's always the potential a lottery-type player slips within the Celtics' reach.
President of basketball operations Danny Ainge is likely examining the market that exists for that No. 19 pick and considering whether the talent available in that range is outweighed by the value in moving the selection. If Boston thinks it can get the same style of player at No. 19 at the latter stages of the first round, or into the second, it makes complete sense to trade down the board.
While the NBA draft is far more top heavy than the NFL version, Ainge could reach into the playbook of Patriots coach Bill Belichick and attempt to lure more cost-efficient players in the second round. What's more, Ainge's track record suggests he's better at picking in that position.
So if Boston thinks a player like Michigan's Manny Harris might be available at No. 52 (the team's second-round selection) and believes he has nearly as much upside as the James Anderson/Jordan Crawford/Lance Stephenson types they might find at No. 19, why not move the pick?
But with only six players currently under contract, including Rasheed Wallace who coach Doc Rivers twice suggested will walk away from basketball this summer, it seems the Celtics must at least entertain the idea of trying to find someone that can make an immediate impact on this team during the 2010-11 season.
Whether that person is available at No. 19 remains to be seen.