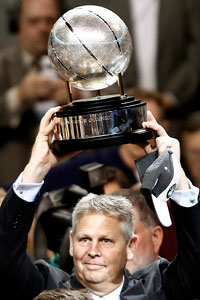 AP Photo/Winslow Townson
Could Danny Ainge move to the late first round or into the second instead of drafting at No. 19?The Celtics are apparently open to dealing the No. 19 pick and colleague Peter May details why it's a favorable strategy for the Green:
Of course, there are a number of other balls in the air that could impact 2010-11 that have nothing to do with the NBA draft. There is the uncertain status of coach Doc Rivers. There is Ray Allen entering free agency, along with a number of his teammates. There is Paul Pierce possibly entering free agency, although he'd have to surrender $21 million out of the gate to do so. There is Rasheed Wallace's likely retirement.

Rivers has been at work this week -- although the draft is not in his job description -- and the sense in the Celtics' organization is that he won't keep them hanging, that he will let them know soon of his decision, possibly by summer league in early July.Free agency officially starts July 1 although, for free agents like Allen and LeBron James, nothing can be formally signed until July 8 because of the annual moratorium.

Which brings us back to the here and now of the 2010 NBA daft. You will hear names like Jordan Crawford of Xavier, Damion James of Texas, Trevor Booker of Clemson, Larry Sanders of Virginia Commonwealth and James Anderson of Oklahoma State as possible Celtics picks. Don't look for them to take Florida State's Solomon Alabi, as many mock drafts have projected. The Celtics never even brought him in for a workout.

Ainge has had good luck with post-lottery first-rounders starting with Kendrick Perkins, the 27th pick in 2003. Perk was officially taken by Memphis, but it was part of a pre-arranged deal. There also was the three-man haul in 2004 (Al Jefferson, Delonte West and Tony Allen) and Gerald Green in 2005, who was a disappointment but remained alluring enough to be included in the Kevin Garnett deal and later get a look-see from Dallas. The gold standard was in 2006, when Ainge traded to get Rajon Rondo with the 21st pick. There also have been some keepers in the second round (Ryan Gomes, Leon Powe and Glen Davis).
Click HERE to read the full story.