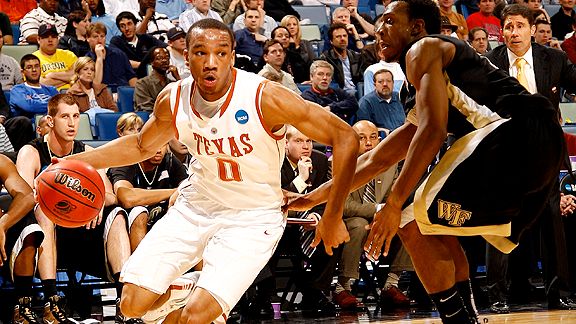 Chris Graythen/Getty Images
When Avery Bradley slipped, the Celtics pounced.Quick analysis after the Boston Celtics selected Texas freshman Avery Bradley with the No. 19 pick in the 2010 NBA Draft:
The Celtics couldn't have asked for the draft to play out much better and, with their choice of players among the second tier of shooting guards, the Green selected the best available player in Bradley.
It's a safe selection. If Bradley pans out as many believe he will, he'll be the explosive scorer the team covets off the bench. Even if he takes time to develop, Bradley can play the point guard spot and provide a much-needed backup behind Rajon Rondo. What's more, he's a lockdown defender who will immediately ingratiate himself in Boston's defense-first system.
Bradley projected as a lottery pick, but an ankle injury might have scared some teams off. The Celtics, who worked him out prior to the draft, scooped him up when he stayed on the board until No. 19.
Keep in mind that Bradley was ranked as the top high school prospect in the country in the class of 2009. He's still very young at 19, but he was regarded as the best perimeter defender in college basketball last season. He's going to make an immediate impact on that end of the court and anything he provides early on in the offensive end will be a nice bonus.
Celtics coach Doc Rivers gushed about Bradley's speed and his ability to play defense at the NBA level immediately.
"He's an NBA defender right now," said Rivers. "He can play point guard defense on anyone in league. He has to learn the position... but with Rondo in front of him, he'll be a good teacher."
Here's video from Celtics.com with Rivers' thoughts on the pick: