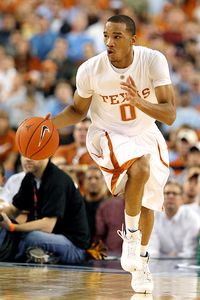 Matthew Emmons/US Presswire
In addition to being able to play NBA defense, Avery Bradley should be a capable backup point guard.The Celtics went with the best player available on the board and added depth behind Rajon Rondo with the selection of Avery Bradley. Colleague Peter May has the details:
The first player Doc Rivers saw on tape when he finally got around to previewing the 2010 NBA draft was a guard from Texas named Avery Bradley.

"This is the guy I like, but I don't think he's going to be there when we pick," Celtics president of basketball operations Danny Ainge told his coach.

So, all together now: We never thought he'd be here when it came our turn to pick.

Bradley, a 6-foot-2 guard who spent one season with the Longhorns, was indeed there when the Celtics made their first-round pick at No. 19. Rivers said Bradley is likely to remain a Celtic, despite all the predraft talk that Boston was inclined to deal the pick.

"He was one of two guys we targeted," said Rivers, who did not identify the other player, other than to note that he was still on the board when the Celtics picked. "Had these two been gone, we would have moved the pick."

What does the coach know about his newest player? "Very little," admitted Rivers, who did say that two of his sons, Jeremiah and Austin, had played against Bradley in AAU ball and both came away impressed. But here is what Rivers saw on tape.

"I like his speed," Rivers said. "He has unbelievable speed. He has a good in-between game. He can make the spot-up jump shots. He's an NBA defender right now. He can play point guard defense on anybody in the league and that's huge for us.

"But he has to learn the position. He has to learn how to be a point guard. So with [Rajon] Rondo in front of him, he'll be a good teacher."

Bradley shares at least two traits with Rondo: the ability to defend and the inability to make free throws. He made only 54.5 percent of his freebies.

"I've been the best defender on every team I've played on since the first grade," Bradley said in a conference call. "I would love to be one of the top defenders in the league. I want to get Rookie of the Year -- that's my goal."
Click HERE to read the full story.